What is a "Conflict of Interests" - A conflict of interests can be of two types:
Pecuniary - an interest that a person has in a matter because of a reasonable likelihood or expectation of appreciable financial gain or loss to the person or another person with whom the person is associated.
Non-pecuniary – a private or personal interest that a Council official has that does not amount to a pecuniary interest as defined in the Local Government Act (eg. A friendship, membership of an association, society or trade union or involvement or interest in an activity and may include an interest of a financial nature).
Remoteness – a person does not have a pecuniary interest in a matter if the interest is so remote or insignificant that it could not reasonably be regarded as likely to influence any decision the person might make in relation to a matter or if the interest is of a kind specified in Section 448 of the Local Government Act.
Who has a Pecuniary Interest? - a person has a pecuniary interest in a matter if the pecuniary interest is the interest of the person, or another person with whom the person is associated (see below).
Relatives, Partners - a person is taken to have a pecuniary interest in a matter if:
§ The person's spouse or de facto partner or a relative of the person has a pecuniary interest in the matter, or
§ The person, or a nominee, partners or employer of the person, is a member of a company or other body that has a pecuniary interest in the matter.
N.B. "Relative", in relation to a person means any of the following:
(a) the parent, grandparent, brother, sister, uncle, aunt, nephew, niece, lineal descends or adopted child of the person or of the person's spouse;
(b) the spouse or de facto partners of the person or of a person referred to in paragraph (a)
No Interest in the Matter - however, a person is not taken to have a pecuniary interest in a matter:
§ If the person is unaware of the relevant pecuniary interest of the spouse, de facto partner, relative or company or other body, or
§ Just because the person is a member of, or is employed by, the Council.
§ Just because the person is a member of, or a delegate of the Council to, a company or other body that has a pecuniary interest in the matter provided that the person has no beneficial interest in any shares of the company or body.
Disclosure and participation in meetings
§ A Councillor or a member of a Council Committee who has a pecuniary interest in any matter with which the Council is concerned and who is present at a meeting of the Council or Committee at which the matter is being considered must disclose the nature of the interest to the meeting as soon as practicable.
§ The Councillor or member must not be present at, or in sight of, the meeting of the Council or Committee:
(a) at any time during which the matter is being considered or discussed by the Council or Committee, or
(b) at any time during which the Council or Committee is voting on any question in relation to the matter.
No Knowledge - a person does not breach this Clause if the person did not know and could not reasonably be expected to have known that the matter under consideration at the meeting was a matter in which he or she had a pecuniary interest.
Participation in Meetings Despite Pecuniary Interest (S 452 Act)
A Councillor is not prevented from taking part in the consideration or discussion of, or from voting on, any of the matters/questions detailed in Section 452 of the Local Government Act.
Non-pecuniary Interests - Must be disclosed in meetings.
There are a broad range of options available for managing conflicts & the option chosen will depend on an assessment of the circumstances of the matter, the nature of the interest and the significance of the issue being dealt with. Non-pecuniary conflicts of interests must be dealt with in at least one of the following ways:
§ It may be appropriate that no action be taken where the potential for conflict is minimal. However, Councillors should consider providing an explanation of why they consider a conflict does not exist.
§ Limit involvement if practical (eg. Participate in discussion but not in decision making or vice-versa). Care needs to be taken when exercising this option.
§ Remove the source of the conflict (eg. Relinquishing or divesting the personal interest that creates the conflict)
§ Have no involvement by absenting yourself from and not taking part in any debate or voting on the issue as if the provisions in S451 of the Local Government Act apply (particularly if you have a significant non-pecuniary interest)
RECORDING OF VOTING ON PLANNING MATTERS
Clause 375A of the Local Government Act 1993 – Recording of voting on planning matters
(1) In this section, planning decision means a decision made in the exercise of a function of a council under the Environmental Planning and Assessment Act 1979:
(a) including a decision relating to a development application, an environmental planning instrument, a development control plan or a development contribution plan under that Act, but
(b) not including the making of an order under Division 2A of Part 6 of that Act.
(2) The general manager is required to keep a register containing, for each planning decision made at a meeting of the council or a council committee, the names of the councillors who supported the decision and the names of any councillors who opposed (or are taken to have opposed) the decision.
(3) For the purpose of maintaining the register, a division is required to be called whenever a motion for a planning decision is put at a meeting of the council or a council committee.
(4) Each decision recorded in the register is to be described in the register or identified in a manner that enables the description to be obtained from another publicly available document, and is to include the information required by the regulations.
(5) This section extends to a meeting that is closed to the public.
Notices of Motion 4.1 - Attachment 1
Extraordinary Meeting 13 August 2015
Notice of Rescission Motion – Byron Bay Parking Study Pay Parking Exemptions and Butler Street Reserve
We move that Council rescind Resolution No. 15-368 from its Ordinary meeting held on 30 July 2015.
If successful we intend to move:
1. That Council confirm its intention to introduce a system of paid parking to the Byron Town Centre during the 2015/16 financial year as outlined in resolution 15-235 and that this system is based upon a pay by number plate approach.
2. That Council set a yearly Shire Resident or Ratepayer exemption fee of $50 per annum for fee paying coupon recipients and receive a report on establishing the costs, benefits and other criteria of pay parking exemptions including that:
a) for an annual fee an exemption is provided for two categories of end user, one being a shire resident/ratepayer and the second being for a business operator, or an employee of one, located within the pay parking area
b) the exemption benefit is for 12-months from date of purchase, can be transferred to another vehicle if needed and not based on date or jurisdiction of registration;
c) investigate implications of payment options including an annual fee as a single fixed amount, or providing an option of periodic payments;
d) no refunds be provided for or towards cost of exemptions except that those wishing to upgrade their fully paid exemption be provided credit of their unused amount, calculated at a daily pro-rate rate, toward such upgrade;
e) changing the exemption criteria; and
f) considering businesses with multiple vehicles.
3. That Butler Street Reserve be made available as an all day car park, operating 6am to 6pm daily with an hourly rate of $3.00 per hour, up to a maximum of $20 all day, with the Shire Resident or Ratepayer exemption applying and a $40/month non-Shire worker/business operator fee.
4. That, to provide incentive to park outside the town centre, Clarkes Beach carpark, Jonson Street (south of Kingsley Street) and on-street, east of Middleton, operate as all day carparks with an hourly rate of $3.00 per hour, up to a maximum of $20 all day, with the Shire Resident or Ratepayer exemption applying, and operating hours of 9am to 6pm.
Comments from Director Infrastructure Services:
The above rescission motion is in regard to Resolution 15-368 as resolved 30 July 2015.
The key difference is reducing the hourly rate from $4 to $3 per hour. This has financial impacts and as discussed below in Comments from Council's Financial Manager does not meet the Fit for the Future / CIP benchmarks.
First however is explanation of the three schemes now being compared; i.e. the 30 July resolved position and the 13 August rescission are considered herein against the original adopted scheme. As such three variations of pay parking are compared in this document as follows:
1. Adopted CIP/FFF scheme, which is based on the April 2015 workshop revenue estimates ($2.1m NET), subsequently adopted on 21 May with $4 per hour, $100pa exemption and $80/month on Butler Street Reserve and the later CIP/FFF addition of Wategos ($600,000pa);
2. Res 15-368 / 30 July scheme, as adopted after the Councillor workshop held that same day and which results in capping some of the all day parking sites to $20 per day and most 4P sites to $12 for the 4 hours each day. This scheme also halved the resident exemption to $50pa and Butler St Reserve to $40/month and introduced the concept of a workers' exemption which for the purposes of revenue estimates has been assumed at $100pa with a 1,000 sold each year.
3. Rescission / 13 August scheme, is to be the subject of the 13 August extraordinary meeting and workshop and reduces the hourly rate from $4 to $3 per hour, thereby removing the need for the $12 cap at some 4P sites but otherwise retains Res 15-368.
It should also be noted however that the April 2015 revenue estimates of the CIP scheme was based on a smaller pay parking 'footprint' which only increased following Council's 21 May adoption by including areas only previously discussed but not included in the original Byron Bay parking study nor, until now, the subject of any revenue estimates. These include:
· Butler Street Reserve, which has since been estimated as a potential 260 spaces;
· Byron St car park, with 34 spaces omitted (via oversight) of the original study;
· the Middleton Street new car park on crown reserve land between Bay St and Lawson St (estimated as providing 30 extra paid spaces); and
· on-street west of the rail line, Wordsworth St, Somerset St, Shirley St (to Milton St).
This increased 'footprint' is detailed in Table 1 and depicted in Figure 1. Accordingly revenue estimates overleaf have been revised for all three schemes based on this increase.
Table 1: increased vehicles spaces between Scheme 1 and 2
Scheme 1

Scheme 2

Increase

Jonson St

211

211

0

*NB: Wategos is estimated at 100 spaces but not included in this table however the Wategos revenue estimates of $600,000pa have been included in the three schemes discussed herein

Fletcher St

85

85

0

Middleton St

112

142

30

Bay St

87

87

0

Lawson St

256

256

0

Gilmore Cres

0

47

47

Byron St

88

90

2

Marvell St

96

96

0

Carlyle St

65

68

3

Kingsley St

65

65

0

Shirley St

0

57

57

Wordsworth St

0

52

52

Somerset St

0

55

55

car parks

384

678

294

TOTALS

1,449

1,989

540 (37%)
Figure 1: increased geographical coverage of scheme
April 2015 workshop revenue estimates on 1,449 vehicle spaces (green lines);
21 May 2015 resolution (red areas) now estimated at 1,989 spaces (a 37% increase).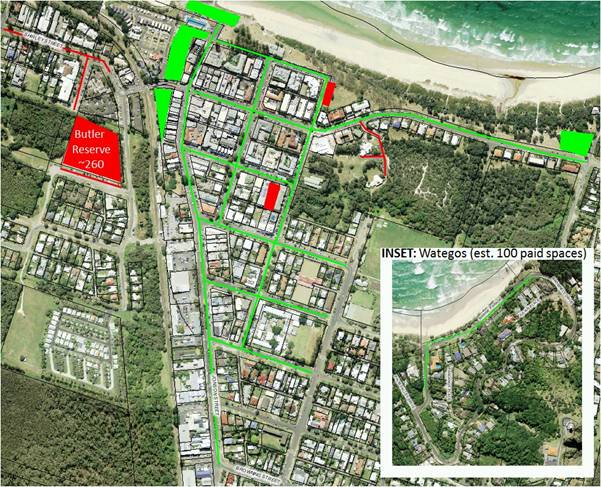 *NB: INSET – Marine Parade at Wategos is estimated at 100 spaces but was not included in the parking study but the revenue estimates of $600,000pa have since been included in the three schemes discussed herein and were included in the adopted CIP scheme submitted as part of the FFF program
However such an increase in the pay parking 'footprint' comes at an extra cost, namely those relating to the supply, financing and maintenance of the parking meters which has been estimated to increase costs, which along with other financial implications is discussed below in Comments from Council's Manager Finance.
First however are other implications of 30 July Resolution and the 13 August rescission including justification of an expanded pay parking area, the number of exemptions provided and more specifically the need to clarify Part 2(a) and intention of 2(c), 2(d) and 2(f) in both Resolution 15-368 and the rescission plus the questionable value and purpose of Parts 3 and Parts 4 in both which are respectively $40/month at Butler St given the proposed business/worker exemption and the $20 all day cap if $3 per hour applies.
Each is discussed as follows.
Justifying an expanded pay parking area
Justifying to the RMS any expansion of pay parking to 'lower demand' on-street areas such as those under 85% capacity will likely require further explanation. Thus to limit such doubt the April 2015 workshop and estimates as used for the submitted CIP/FFF scheme was based on the consultant's work of 2014 including data collected that informed the parking study thereby providing some basis (and confidence) for the conclusions reached; i.e.
1. 89% occupancy across the 1,065 on-street car spaces,
2. 54% occupancy within the 384 spaces in Council car parks, and
3. an averaged rate of 5 of the 9 hours in the pay parking day occupied.
This resulted in the estimate of $2.1m NET from the meters with a later addition of $600,000pa for Wategos calculated on the basis of an estimated further 100 on-street spaces at $4/hr, with 9hrs per day (9am-6pm) with use over 365 days per year with a 45% occupancy rate applied as paying users (i.e. 55% exempt).
In doing so a final revenue figure of $2.7m pa NET estimate was derived and included in Council's CIP/FFF submission with 'pay back' occurring end of Year 1.
This estimate as with others below did not include the enforcement revenue estimate of near $1m pa and, as it has since been realised, did not account for the GST which applies to meters but not coupons/exemptions. Therefore by applying the GST the 21 May adopted CIP/FFF scheme achieves an estimated $2.37m pa. This figure does not include an expanded pay parking area.
By expanding the coverage of pay parking however, it is estimated the changes and concessions adopted on 30 July (i.e. $4 per hour and $50 pa resident/ratepayer exemption) can lead to achieving the $2.7m pa target as submitted in and needed to meet the FFF program and benchmarks. This does however require retaining the $4 per hour rate and can absorb the increased costs.
However at $3 per hour it is estimated Council will fall near $1m pa short of the $2.7m target yet have the same increased costs of an expanded pay parking area thereby delaying Council's meeting of any CIP/FFF benchmarks.
To this end it is recommended Council do not consider the $3 per hour rate any further unless exemptions be increased or another revenue stream be identified.
Justifying exemptions
Council will also likely need to explain to the RMS how the exemptions proposed address the principles of parking demand management. This is considered feasible on the grounds of shire residents/ratepayers due to precedent but considered more arguable in regard to workers and by extension to businesses with many vehicles.
To assist the justification of such exemptions however the stipulation made in Part 2(a) as follows needs to remain, yet better defined and explained as follows.
Part 2(a) – exemptions
Part 2(a) confirms exemptions will apply to any shire residents/ratepayers whereas the business/worker exemption is "for a business operator, or an employee of one, located within the pay parking area".
This stipulation is still supported remain but for the benefit of clarification it is recommended it be worded more clearly as follows, that is:
… Council's pay parking exemption be made available to any shire resident/ratepayer while the business/worker exemption be limited to business, or an employee of one, that is located at a fixed address within the pay parking area only.
This will mean more people are eligible with an expanded pay parking area, with the hospital one example and a major employer that will benefit, at least until such time they relocate (expected in 2016).
Other major employers within the pay parking area will be Woolworths (who admittedly have their own car park) and the public school who have advised they need 50 all day spaces (school days only) and also suggested (by one staff member at least) their worker exemption be provided free of charge.
On the cost of the business/worker exemption however, and given Part 2 stipulates the shire resident/ratepayer exemption as $50 pa per vehicle, it has been assumed a $100 pa fee will apply to the worker/business permit. A resolution will be required by Council to endorse the amount however, noting that a $200pa amount seemed acceptable to at least one member of the business working group post-meetings as held 23 and 28 July.
However with any amounts at $100pa or less the need for any 'account' system or periodic payment schedule is questionable and it is recommended as follows.
Part 2(c) – account system Vs pay by instalment
It is recommended no account system be adopted as the price of the exemptions are considered low (e.g. $50pa) while the costs to develop and then manage an account system would be high and considered to greatly outweigh any benefit such a system would provide.
In addition the need for such a system is questionable given the expected low demand but yet costs would remain high; i.e. it is believed most people will be able to afford $50pa as a one-off payment and those who can not would be in the minority and providing an account for them would be costly and likely require a surcharge.
Instead it is therefore recommended part payments be made possible with $25 set as the minimum payment and it can be made at the meter on the proviso the vehicle registration has been pre-registered and accepted into Council's exemption system. Under such a scheme the $50pa resident/ratepayer rate can then either be paid as $50 for 12 months exemption or $25 to access 6 months.
As for the business/worker exemption, it is recommended however the business/worker exemption be available as quarterly payment only due to high staff turnover and casual/seasonal nature of work in Byron Bay. Table 2 provides examples of what would be paid each quarter depending on the annual rate set, noting $200pa is recommended; i.e. $50 per quarter which if applies (and as discussed in Part 3 below) greatly undermines the value or demand for the resolved $40/month ($120/qtr) at the Butler Street Reserve.
Table 2: business/worker exemption - potential cost and payment options
Annual Rate

Quarterly payment

$100

$25

$160

$40

$200

$50

$240

$60

$280

$70

$300

$75

$480

(Butler St Reserve)

$120
Part 2(d) – upgrades from one exemption level to another
This is now not relevant and only applies if a sliding scale was adopted, such as $50 for 1P, $75 for 2P, etc. It is recommend therefore Part 2(d) of Res 15-368 be revoked.
Part 2(f) – business with multiple vehicles
Council clarification on this will be sought at the 13 August workshop. However it is recommended that if the worker/business exemption does proceed there is no need for further investigation into this matter and instead it will become subject of a future report in regard to exemption criteria, for example a vehicle registered to a place of business within the pay parking area or to the head lease holder or owner is legible for the worker/business exemption and no discounts apply for having two or more vehicles.
Part 3 – $40/month charge at Butler St Reserve
This charge equates to $480 per year (or as per Table 2, $120 per quarter) and is intended for workers who are not shire residents. This is between a two and five fold cost impost compared to the now mooted $100 or $200pa worker/business exemption and as such considered to price the site out of the market and therefore low demand/use can be expected.
As such it is recommended the $40/month charge be removed and instead Butler Street Reserve be incorporated into Part 4 of the Resolution 15-368 or the rescission motion should it be endorsed, i.e. the hourly rate apply and a $20 all day cap apply, or potentially less (e.g. $10/day) in effort to encourage it as a first choice destination rather than a last resort.
If a lower cost however was to apply than $20 per day it is then recommended no exemptions be accepted at Butler Street Reserve which is explained as follows.
Part 4 – $20 all day cap
At $4 per hour the all day cap is beneficial after 5 hours, however at $3 per hour the benefits are only derived after 7 hours, meaning there is less financial incentive to park in such locations.
However if $3 per hour rate does gain favour it is recommended then the $20 all day cap be revoked with the exception of Butler Street Reserve which could conceivably have a lower all day rate such as $10 per day which applies to all vehicles and that no exemptions apply.
By doing so it will aid in managing the site (i.e. if you park there you pay) and potentially Council could relocate their existing ticket machines to the site so it becomes a stand alone 'pay and display' area thereby reducing the need for expensive upfront establishment costs.
Such use of the site will also ensure Butler Street Reserve is available for day trippers who are looking to park most or all of the day, or simply wishing to avoid the hourly rate elsewhere. Such use of the site (i.e. no exemptions) is especially appealing and made possible if the workers/business exemption exists as they, like those with the resident/ratepayer exemption, are likely to prefer to park closer to their destination and use Butler Street as a last resort which is only likely in the highest peak times.
Comments from Manager Finance:
A detailed analysis of the estimated financial impacts resulting from the proposed changes to the paid parking scheme subject of this Notice of Rescission and the implications for Council's Council Improvement Proposal (CIP) lodged with IPART in June 2015 are included at Attachment 2 (#E2015/51567) to the report.
Comments from General Manager:
Council has been in earnest discussion about the introduction of a paid parking scheme since the Financial Sustainability Plan was adopted in mid 2013. It has always been an integral part of Council becoming financially sustainable and addressing the Council's compounding shortfall between available recurrent revenue streams and the expenditure levels required to progressively address the significant infrastructure backlog and the primary chronic underfunding of roads.
A parking study for Byron Bay was completed in 2014 and the consultants recommended that Council introduce a paid parking scheme for Byron as a means of better managing the supply and use of available parking facilities and easing traffic congestion created by vehicles circulating around the town centre seeking available parking spaces.
Council subsequently engaged Umwelt community engagement specialists to undertake an extensive community engagement program over June/July 2014 to gauge initial community reaction to a paid parking scheme. Council received over 1300 responses to this program and a report on the responses was tabled and discussed at a Council workshop. The most significant sentiment expressed by respondents was that they supported the notion of visitors to Byron being captured by a paid parking scheme but Shire residents ought to be excluded. Since this time Council has been grappling with devising a viable and acceptable formula that "taxes" visitors and minimises the impact on locals while realising Council's desperate need for a recurrent revenue source of sufficient magnitude to fund much needed infrastructure within the Byron Township and elsewhere within the Shire. Council consequently supported "in principle" the introduction of a Byron Paid Parking scheme by resolution in December 2014.
With the release of the state government's Fit for the Future report in the second half of 2014 it became even more apparent that the introduction of a paid parking scheme for Byron was absolutely fundamental to Council presenting a viable Council Improvement Proposal (CIP) and meeting the performance benchmarks stipulated by the IPART as a prerequisite to being declared as FFF. In May 2015 the Council resolved to support a paid parking scheme for Byron Bay that was based on a universal $4 per hour rate with a $100 pa exemption being available for purchase for BSC residents and ratepayers.
A Council workshop was held in June 2015 to explain and seek support for a draft CIP that outlined five scenarios that would support the Council meeting the requisite IPART performance benchmarks. These scenarios are:
1. The introduction of Paid Parking for Byron Bay from 2015/16 in the form adopted by resolution of the Council in May 2015 – deriving new recurrent net revenue to the value of $2.7M pa from 2016/17
2. A 3% rate increase above the rate peg in 2016/17 (assuming Council is declared as FFF)
3. Successive 10% SRV rate increases from 2017/18 for four financial years
4. A 1% strategic procurement saving derived from Council's FSP strategies
5. A property sales, investment and redevelopment program as outlined in Council's FSP
Council supported the draft CIP incorporating all five scenarios by resolution at a Council meeting held on 25th June 2015 and the approved CIP was submitted to the IPART by 30th June 2015.
It must be stressed that the Council's CIP now represents an undertaking given to the NSW government that the Council will deliver the scenarios outlined in the CIP and will submit itself to annual audit by the NSW Auditor General's Office and thereby demonstrate that it is delivering on its undertakings.
On 30th July 2015 Council held a further workshop on Paid Parking followed by an extraordinary meeting of the Council. At the Council meeting Council adopted a number of changes to the previously adopted scheme (May 2015) including:
· Expansion of the paid parking footprint within Byron Bay township
· Conversion of a number of off street car parks from 4 hours duration to all day parking
· Capping parking fees payable in the off street car parks to $20 per day and in on street four hour zones to $12 per day
· Reducing the $100 pa community exemption to $50 pa
· Reducing the $80 per month payable by business operators and their staff for use of the Butler Street Reserve to $40 per month
· Retaining the $4 per hour universal rate
The comments by the Manager Finance indicates that the scheme, as amended on 30th July 2015, still delivers the $2.7M in additional revenue required to meet the commitments given in Council's CIP.
Rescission Motion:
Following the resolution adopted by Council on 30th July a rescission motion has been lodged seeking to rescind Resolution 15-368 and replace it with a motion reducing the hourly paid parking rate to $3 per hour.
There are a number of direct consequences that would flow from such a decision and these become apparent when reading the comments of the Manager Finance. They include:
· Delivering a revenue shortfall of $1.508M pa
· Causing Council to fail to achieve three key IPART performance benchmarks, namely 1,4 and 5
· Failure to deliver to performance benchmark 1 by 2019/20 is fatal to Council being declared to be FFF – the IPART has stressed that achievement of this benchmark is non negotiable
· Council would no longer have access to (because it will not be FFF) a 3% rate increase above the rate peg without the need for IPART approval or low interest loans from the new State Borrowing Authority
· To make up the shortfall of $1.508M pa Council would need to contemplate further increasing rates beyond the 10% already contemplated in the CIP
· A rate increase of 17.8% would be required in 2017/18
· Byron Bay businesses would bear a significant burden should such a rate increase proceed as property owners would pass on the cost of increased rates in even higher shop rentals (see the impact of these rate increases on Byron residential and business properties in the Manager Finance comments)
· There is no guarantee that the IPART would support rate increases of this magnitude as Council would need to demonstrate community support, and the IPART has historically been reluctant to support rate variations above 10%
· Irrespective of the foregoing, increasing rates by this magnitude further shifts the burden of infrastructure funding to ratepayers and away from visitors thus enshrining and exacerbating current funding inequities
· In the absence of support for rate increases of such magnitude Council will need to identify another source or sources of new recurrent revenue equivalent to $1.508M and this will need to be done immediately as the IPART are evaluating Council's CIP right now.
· Suggestions that Council could access borrowings or sell off viable commercial properties to make up this shortfall will not help Council to meet and sustain compliance with the IPART benchmarks. Our capacity to borrow is very limited and Council cannot afford additional loan redemption payments – this would just exacerbate the current shortfall between revenue and expenditure. Property sales can only occur once and while they may help with a short term reduction in infrastructure backlog, by selling off productive commercial enterprises we would gain a short term injection of funds (which can only be spent once) but we would be locking out much needed recurrent revenue streams that are vital to our long term sustainability.
In summary, in addressing Council's poor financial position and infrastructure renewal backlog councillors have consistently acknowledged that it is time for tough decisions if Council is to prove its long term sustainability and stave off the inherent threat of amalgamation. This is not to understate the genuine desire of our elected representatives to be sensitive to the frailties of our community in reaching such important decisions. There is no doubt that the introduction of a paid parking scheme for Byron Bay will not be universally popular and it is therefore incumbent upon us to explain to our community (a) the reasons why the introduction of such a scheme is necessary; and (b) the key components of the scheme and how it will work.
In order to do this we need to finalise the key components of the scheme, stop changing the fundamental parameters and unite to support and explain the final scheme.
In meetings with Byron business representatives a few key issues have arisen:
1. The need for the Council to explain the need for paid parking and the consequences of not doing so (including potential amalgamation);
2. The need for the Council to specifically describe the infrastructure projects that will be funded from revenue derived from the BBPP scheme; and
3. That feedback from the business community indicates that the $4 per hour rate has not been an issue of primary significance
Of course if you ask anyone whether they prefer a $4 scheme or a $3 scheme they will always say a $3 scheme. I would suggest that once they understand the context of the scheme and the financial realities that underpin it that organisations such as Byron United will resume their past support for a $4 scheme.