Report
Council's vegetation mapping is currently being reviewed and updated. The current review is significant in scope and nature and will improve the accuracy of the mapping and reflect changes in vegetation extent and composition over time.  Vegetation mapping was initially carried out in 1999 as part of the Byron Flora and Fauna Study and a review of parts of the mapping was undertaken in 2007.
The aims of the current review include:
-     Improve the accuracy of the mapping by using the most recent high resolution imagery and undertaking additional ground truthing.
-     Re-classify vegetation types to ensure consistency with the NSW plant community type classification in the NSW Vegetation Information System.
Council engaged Landmark Ecological Services Pty Ltd to undertake the mapping update in April 2014.
Study area
The current review is restricted to the coastal lowland areas of the Shire taking in the areas around Broken Head, Skinners Shoot, Suffolk Park, Byron Bay, Ewingsdale, Myocum, Tyagarah, Mullumbimby, Brunswick Heads, Ocean Shores and Billinudgel (Figure 1).
This area has been prioritised as it includes the area with the highest level of development, contains large areas of vegetation listed as endangered ecological communities (Threatened Species Conservation Act 1999, Environmental Protection and Biodiversity Conservation Act 1999), and includes the area covered by the draft Koala Plan of Management. For these reasons it is important to have accurate information on which to base land use management decisions.
A vegetation mapping review across the remainder of the Shire is also required but is not currently  
resourced. Council has previously sought funding under the Department of Planning and  
Environment's - Planning Reform Fund to review the vegetation mapping but has not been
successful. Finalising the review of the remainder of the Shire's mapping is critical to enable the
holistic development of a Rural Lands Strategy for the Shire. It is therefore recommended that
Council initiate discussions with the Office of Environment and Heritage and Department of
Planning and Environment seeking their support and financial assistance to progress the review of the vegetation mapping for the remainder of the Shire as a matter of urgency.
Information sources
Vegetation is mapped using a combination of aerial photograph interpretation (API), reviewing existing information (e.g. vegetation survey data from various Council and state government projects), and on-ground site inspections. Landmark are amending the existing mapping using Geographic Information System (GIS) software to digitally map vegetation communities.
The most recent high resolution aerial photography available is being used from a range of sources including:
·    Imagery supplied to Council from NSW Land and Property Information – includes imagery from May 2013, Sept 2012 and Sept 2009.
·    Sixmaps – Land and Property Information website http://maps.six.nsw.gov.au/
·    Nearmaps – high resolution imagery from 2014
In addition vegetation mapping and assessments produced through other Council projects and development applications have been considered in the mapping review.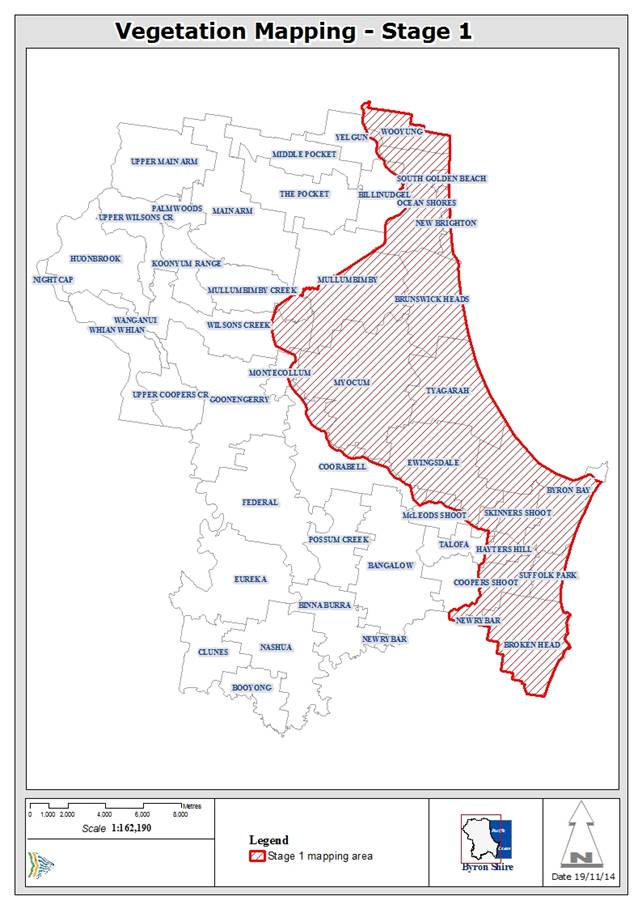 Figure 1 – Vegetation mapping review study area
Data collection
In addition to identifying the vegetation types a range of technical data was recorded for each 'polygon' (ie unit of vegetation with same or similar attributes). This includes whether the area was plantation, the dominant tree species present, landscape condition, canopy cover, koala habitat score and observation type. Details of the data collection and other technical information is included in Attachment 1.
Field inspection
Following the initial digital mapping process via API ground truthing has being carried out by the consultants and Council staff. Ground truthing involves inspecting vegetation to confirm whether the initial API is correct, and to gather further information to assist in the vegetation classification process. Any errors in initial API mapping are recorded for amendment.
To facilitate ground truthing, a register of landholders was developed following promotions via local media and community newsletters. The register includes landholders supportive of allowing vegetation on their property to be ground truthed. In addition many properties involved in Council projects such as Land for Wildlife and Koala Connections have been assessed.
It is anticipated the public exhibition period will provide a further opportunity to undertake ground truthing in areas which have not yet been accessed.
Vegetation classification system
A new vegetation classification system has been adopted as part of the mapping review. Council will now be using the State Government's Vegetation Information System (VIS) Classification database to ensure consistency with NSW standards. This system incorporates three levels; vegetation formations, vegetation classes and plant community types, as shown in the Figures below.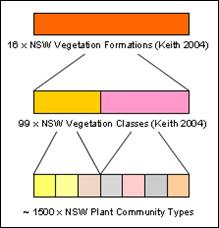 Example of classification hierarchy
Vegetation Formation

Forested Wetlands

Vegetation Class

Coastal Swamp Forest

Plant Community Type

(PCT)

Broad-leaved paperbark swamp sclerophyll forest with rainforest elements on coastal floodplains north of the Richmond River.
The plant community type (PCT) classification provides the most detailed description of vegetation and was developed by the state government to provide a standard approach to vegetation classification and mapping. All areas have been mapped to Vegetation Class level, and Plant Community Type will be used where sufficient information is available to allow classification to this level.
As part of the review existing vegetation classifications developed during the Byron Flora and Fauna Study 1999 across the entire Shire will be translated to the VIS classification.
Uses of the mapping
The vegetation mapping provides baseline data which Council can use for a range of purposes including:
·    to inform the development/ review of the Biodiversity Conservation Strategy;
·    to inform land use planning and zoning (including environmental zoning);
·    to identify high conservation value vegetation such as endangered ecological communities, koala habitat, old growth forest and wetlands;
·    for use by Landcare, community groups and landholders to inform management of vegetation and habitats, and conservation programs.
Results
The Stage 1 Project Area occupied a total area of 20,000 hectares, which included 2,274 hectares of National Parks land which was not included in the mapping process. Of the 17,729 hectares mapped 6,586.7 hectares (37.2%) is vegetated, including plantation and in addition open water occupied 134.0 hectares (Table 1).
National Parks (NP), Nature Reserves (NR), a State Conservation Areas (SCA) and an Aboriginal Area (AA) are located in the study area, but are out of the scope of mapping for the current project.
Table 1 Land use
| | | |
| --- | --- | --- |
| Landuse | Area (ha) | % Mapping Area |
| NPs, NRs , SCA and AA (unmapped) | 2,274.1 | |
| Vegetation (excl plantation) | 5,615.4 | 31.7 |
| Plantation | 974.8 | 5.5 |
| Open water | 134.0 | 0.8 |
| Total vegetation | 6,724.2 | 37.2 |
| TOTAL Stage 1 project area | 20,004.0 | |
| TOTAL mapping area (excl NPs etc) | 17,729.9 | |
To date 38.8% of the mapped area has had some ground truthing completed (Observation type 1-3) or been verified by other sources (Observation type 5) (Table 2). Data is reported for mapped vegetation including plantations as well as open water polygons.
Table 2 Observation type
| | | | | |
| --- | --- | --- | --- | --- |
| Observation type | No polygons | % no polygons | Area (ha) | % area |
| 1 Walk through | 449 | 7.0 | 683.0 | 10.2 |
| 2 Seen from edge of polygon | 750 | 11.7 | 961.9 | 14.3 |
| 3 Distance assessment | 604 | 9.4 | 765.4 | 11.4 |
| 4 No ground truthing | 4,523 | 70.4 | 4,149.2 | 61.7 |
| 5 Verification from other sources | 95 | 1.5 | 164.7 | 2.4 |
| Grand Total | 6421 | 100 | 6,724.2 | 100 |
Within the mapping area 8 vegetation formations, 17 vegetation classes and 73 plant community types (PCT's) were identified. The vegetation list was derived from Vegetation Classification for the Northern Rivers Catchment Management Area of New South Wales 2012 and the principles set out in the NSW Vegetation Classification and Assessment (NSW VCA). As recommended by the Office of Environment and Heritage a number of draft PCT's have been included to describe areas of vegetation that did not fit into the existing classification system.
Polygons which were not classified to PCT level included vegetation requiring more detailed site inspection or many instances of exotic, disturbed and early succession vegetation that could not be placed in a system designed for late successional native vegetation.
Details of the vegetation types identified during the mapping project broken down into formation, class and plant community types is provided in Attachment 1.
Public exhibition
The mapping  is now at a stage that it is ready for public exhibition. Public exhibition will provide an opportunity for landholders to view the current mapping and notify Council if they believe that the mapping is not accurate. It provides a further opportunity to expand the level of ground truthing currently complete and improve the overall confidence in the mapping.
As part of the public exhibition the community will have the following resources available:
1.       A series of high resolution maps to download from Council's website to view draft mapping at a property scale. An example of the mapping format can be seen at http://www.byron.nsw.gov.au/byron-shire-environmental-mapping which contains information of Council's current mapping products.
2.       Supporting information and FAQ sheets to assist landholders to understand the mapping process and product. (Example: draft Attachment 2)
3.       Landholders can make an appointment with Council staff to view and discuss the mapping for their property.
Landholders can also lodge a submission to Council if they believe the mapping is not accurate. The mapping will then be reviewed, and Council staff will request a site inspection of the property in order to confirm any amendments required.
Following the exhibition period and consideration of submissions a final report will be prepared on the mapping for Council endorsement.
Financial Implications
Nil
Statutory and Policy Compliance Implications
Nil