13.13 - Attachment 2
#E2014/80611
NOTICE OF PROPOSED ROAD NAMES
Council has supported the following proposals. Submissions are welcome by 23 December 2014. 
·    McKenzies Lane, Mullumbimby
Reason:                      A resident request has been made to name the unsealed lane (depicted by the yellow line) as 'McKenzies Lane' after a long established local family.
Background:               As the map shows, the three adjacent properties do have a street address allocated, thus no name is required for addressing or postal purpose.  However, the request outlines problems with being located, including by emergency services.
Location:              Lane off Gulgan Road, Mullumbimby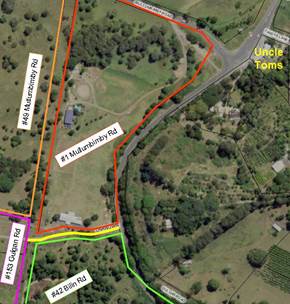 ·    Stacey's Way, Tyagarah
Reason:                      A resident request has been made to name the unnamed road (depicted below by the red line) as 'Stacey's Way', in memory of his daughter who passed away aged 30. Resident claims support is forthcoming for the name from adjacent land holders/tenants.
Background:              Council land is shown in yellow, while private properties are shown in pink.  These private properties and the Tyagarah airfield are accessed via the unnamed road maintained by Council.  The road is on Council land but not in a dedicated road reserve, with access to this unnamed road available from Yarun Road, which runs parallel to the Pacific Highway.  Noting all properties highlighted are currently addressed as the Pacific Highway.
Location:              Tyagarah Airfield access road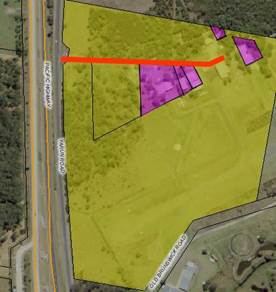 ·    Coolalie Place, Lilli Pilli
Reason:                      A resident request has been made to name the road reserve (depicted below by the green line) connected to Orara Court, Lilli Pilli as 'Coolalie Place', after the original homestead and acreage.
Background:              As shown, the change of name would affect four properties (yellow land parcels) all addressed as #1 Orara Court and accessed via a road upon land classified as Community / Neighbourhood Titles (red parcel).
As such, a change of road name would result in new addressing of each property as Coolalie Place (presumably #1 to #4) and the sign be erected at Orara Court, which would benefit locating properties.  Council however would not become responsible for the road or its maintenance that is upon the community title.
Location:              Road reserve entry to Orara Court, Lilli Pilli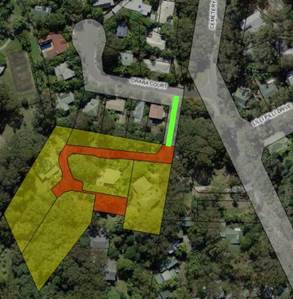 ·    Shady Lane, Brunswick Heads
Reason:                      A resident requests that the unnamed road (depicted below by the pink line) adjacent to swamp and woodland as 'Shady Lane'.
Background:        The road leads to 1 of the 5 yellow land parcels under single ownership. These, along with the two pink parcels, are allocated either an Old Pacific Highway or Pacific Highway address. The only occupied land is the two pink parcels with property access from Kingsford Drive within Bayside suburb of Brunswick Heads. Resolution 14-93 resolved that Council take the appropriate steps needed to rename the un-named road with the suggested name being "Shady Lane". An earlier Council resolution had supported 'Eucalyptus Lane'. 
Location:              Unnamed road adjacent to woodland swamp with Bayside suburb of Brunswick Heads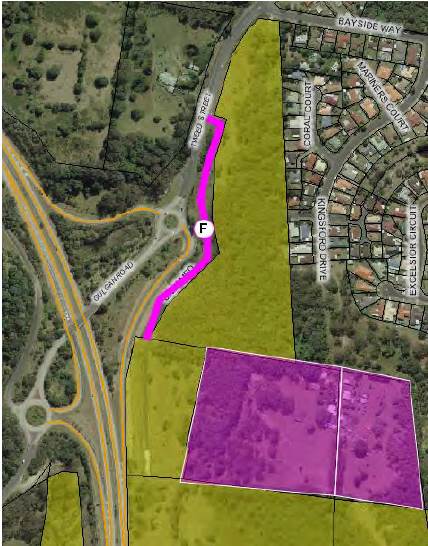 Written submissions on the proposed names may be made to Byron Shire Council within 14 days of the date of this notice.  Submissions can be provided by postal mail to: General Manager, Byron Shire Council, PO Box 219 Mullumbimby 2482 or sent by email to submissions@byron.nsw.gov.au.  Emailed submissions to this address only will be acknowledged.
Enquiries:  Simon Bennett 02 6626 7080
Submissions will be made public in accordance with Schedule 1 Part 3 Clause 1(a)(vi) within Schedule 5 Part 2 of the GIPA 2009 Regulations as applicable including both the substance of the submission and the identity of the author. For assistance with this please call Council's Records Coordinator on 02 6626 7113.
Office Use Only

Job No.

3211.22

Date/s for Block Advertising

9/12/2014

Date for adding to Web if earlier than Block Advertising date

Other Paper/s

No

Date/s:

Is a costing required prior to placement?

No

Website title (if loading this to the web)

Proposed foot bridge name, Billinudgel

Is the advertisement to be linked to any of Council's webpages?

(More than one is possible.  Delete or cross out the links not required)

Council Notices

Public Exhibition

Name and # of document to be placed on exhibition.

Eg. #E2013/1234 Policy 1.1 Payment of Expenses

N/A
Checklist:
      Director's approval obtained and signed below
      Email advertisement to "Advertising"
      Send 7 copies of advertisement and attachment to Administration if required at CAP points.
      Email your Executive Assistant if advertisement required on web page together with any attachments
_________________________
Director