13.13 - Attachment 2
Costs and infrastructure required at The Cavanbah Centre for a proposed Freedom Camping Trial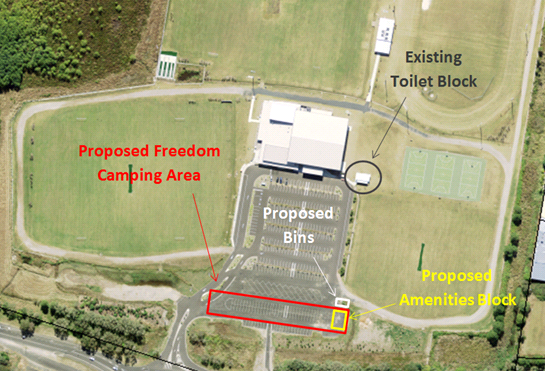 The mechanics
1.   Freedom Campers would be located at the Ewingsdale Road end of the car park (see the diagram above). This will ensure current users are not impacted by the trial and this location supports the existing water and sewerage infrastructure available.
2.   The highlighted area allows for twenty vans per night and a capacity of 60 people (a spacing of 2.5m per vehicle is required for fire safety)
3.   Freedom Campers to access the site from 6pm to 9am, seven days a week. 
4.   Campers can stay for a maximum of four consecutive nights.
5.   Camping will cost $10 per vehicle, per night.
6.   Campers will pay for a ticket using an installed permit machine.
7.   Security will patrol the site twice nightly to ensure campers have purchased tickets and no anti-social or illegal behaviour is taking place at the centre.
Infrastructure required
The following infrastructure is required to accommodate Freedom Campers:
1.   Amenities:
a.   An amenities block within 50m of the camping site, containing the following infrastructure:
b.   1 x disabled toilet
c.   2 x unisex toilets
d.   4 x coin operated showers (2 x female, 2 x male)
e.   These facilities would be cleaned and restocked with supplies twice a day.
2.   Waste:
a.   6 x 240L waste bins
b.   6 x 240L recycling bins
c.   The waste would be collected weekly (and reviewed monthly to ensure demand is being met)
3.   Signage:
a.   2 signs at The Cavanbah demarcating the Freedom Camping area
b.   Signage at the Freedom Camping 'hot spots' in town encouraging campers to relocate to The Cavanbah Centre
c.   Signage at the entrance to The Cavanbah Centre
Budget to operate a 12 month Freedom Camping Trial at The Cavanbah Centre
Item

Cost

Income

Assumption – an average of 15 vans per night at a cost of $10 per van

$54,600

Operational Funds

Funds not identified

Total income

$54,600

Expenses

12 month Freedom Camping trial at The Cavanbah site:

Waste Management (12 bins)

Security

Signage

Cleaning (amenities block, car park and nature reserves (2-3 hours a day)

Risk Management and Contingency

Section 64 contribution for Water and Sewer costs (fees could be waived for the trial period)

Amenities block

Plumbing water and sewer - amenities block

Development Application

Permit machine

Total Cost including Section 64 contributions

Total Cost excluding Section 64 contributions

$2,958

$25,480

$1,840

$91,000

$5,000

$14,670.11 per site x 20 sites

= $293,400 

$30,000

$30,000

$285

$8,700

$491,963

$195,263

Marketing education campaign

Social Media

Digital campaign

Flyers

Intermediary consultation and partnering with holiday parks, backpacker hostels, Wicked Vans, Jucy Vans and the Byron Visitor Centre

Data collection and monitoring

$30,000

Cost of regulatory staff to patrol Byron Bay 'hot spots' and move people on to the Cavanbah Centre and issue infringements to non-complying van packers.

$53,414

Total Expenses

$278,677

Income – Expenses (net cost to Council)

$224,077 Revenue is estimated at $54,600