In light of changes about to be implemented due to the introduction of pay parking throughout Byron Bay town centre, Gilmore Crescent poses challenges, namely an unregulated parking area with most of the road (as the below map shows) being upon crown land and not within a road reserve; therefore meaning Council is not considered the authority over the land.
However most of the existing road was built specifically for access to two facilities: Sandhill's Child Care and the Youth Activity Centre (YAC). Accordingly the car parking as also shown was constructed ancillary to these same two facilities. As both car park areas fall outside of the pay parking scheme (until such time crown approval is gained) a means of regulating the parking is required; otherwise the constructed parking area will not meet its intended purpose. This is especially likely for the child care which unlike the YAC operates with both consistent, staffed hours Monday-Friday (except for Christmas/New Year) and during times when pay parking will apply, being 9am-6pm every day.
Therefore of the two facilities the child care is seen as more critical at this time and provides:
·    10 permissive parking spaces on the south side opposite the centre;
·    8 permissive + 2 mobility permit car spaces on the north side at front of the Centre; and
·    that No Parking applies 1am to 5am.
Figure 1: proposal and location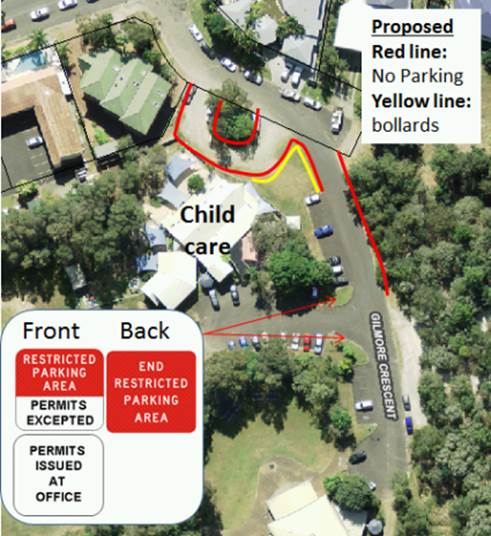 A lunchtime site inspection on 11 November found all spaces in use except the permit parks, indicating that strong demand already exists. However exacerbating the situation further is that currently no time limit applies, and that enforcement is not possible given lack of signage and the inability to distinguish vehicles between child care staff, patrons and other users. However as the parking area is clearly upon crown land and situated at the child care frontage with a single point of entry/exit it is believed regulation is possible (and appropriate) via designating the car park as a Restricted Parking Area (permits excepted).
Under such a scheme permits would be controlled and issued by Council's child care management for the purpose of displaying on vehicle dashboards. The design and location of the proposed signage is depicted, i.e. at entry/exit of the car park area.
The regulatory signage is also depicted including proposed modification of R5-541 to include "Permits Excepted" and no changes to R5-542, noting both can be enforced under NSW Road Rule 168-1:
(1)  The driver of a vehicle (other than a public utility service vehicle) must not stop in a restricted parking area, unless the driver is:
(a)  stopping in a parking station or in accordance with the directions marked on (or on a sign displayed adjacent to) a parking bay, or
(b)  actually engaged in dropping off, or picking up, passengers or goods.
Maximum penalty: 20 penalty units.
(2)  A restricted parking area is an area with:
(a)  a restricted parking area sign on each road into the area, and
(b)  an end restricted parking area sign on each road out of the area.
(3)  In this rule:
vehicle does not include a bicycle or animal that is being ridden.
To assist further, supplementary signage is also recommended; noting an example is also depicted which according to the above road rule needs to be installed adjacent to the regulatory signage. It is also noted that the use of permits is only likely to be required by long term parking (i.e. child care staff) as the above road rule allows for short stays who are in the act of dropping off or picking up (which will namely be parents/carers).
Figure 2: recommended regulatory and supplementary signage
| | | |
| --- | --- | --- |
| | | |
| R5-541 Modified | R5-542 | Supplementary sign |
It should be noted Council/LTC have set a precedent for use of a Restricted Parking Area via the 2012 resolution 12-496 which has been implemented with success and without need of further review at Council's First Sun Holiday Park in Byron Bay.
Lastly, given the child care does not operate weekends there is potential the Restricted Parking Areas not apply at such times and on this Committee advice is sought.
On a related matter, Committee advice and endorsement is also sought for introducing No Parking restrictions to the road and grassed verge on the north-east of the child care as also depicted, noting the red line represents the extent of the proposed No Parking and the yellow line indicates bollards (approx. 15 spaced at 2m apart).
With the commencement of pay parking it is expected this already in-demand parking area will only increase noting that on 11 November during a site visit the area was at 'capacity' with:
·    9 vehicles parked on the east side;
·    6 vehicles parked on the grass verge;
·    6 vehicles parked within the turning circle; and
·    11 vehicles parked on Gilmore Crescent proper.
In doing so, vehicles had parked adjacent to the child care fence line and across the grass verge blocking access. To stop this practice No Parking as proposed is required. Alternatively options to regulate and allow permissive parking could be investigated.