13.2 - Attachment 1
Minutes of the Byron Shire Council Public Art Assessment Panel Meeting held on Thursday 18 February 2016
E2016/10484
PRESENT:   Cr P Spooner, Cr S Richardson
Staff:            Joanne McMurtry (Community Policy Officer)
                     Sarah Ford (Manager Community Development)
                     Andy Erskine (Superintendent Open Space & Recreation)
Community: Suvira McDonald (Community Artist member)
                     Tracey Whitaker (Community member)
                     Denise Napier (Community member)
                     Rick Molloy (Practising Artists Network)
Paula Cordeiro (Community Artist member)
Paul Spooner opened the meeting at 2.05pm and acknowledged that the meeting was being held on Bundjalung Country.
APOLOGIES:     Peter Wood (Arts Northern Rivers), Gavin Brown (Bundjalung of Byron Bay Aboriginal Corporation (Arakwal))
DECLARATIONS OF INTEREST – PECUNIARY AND NON-PECUNIARY
There were no declarations of interest
CONFIRMATION OF A QUORUM:
There are ten people on the Panel. Quorum numbers were met.
CONFIRMATION OF PREVIOUS MINUTES:
That the minutes of the Public Art Assessment Panel meeting held on 5 November 2015 be adopted.      (Spooner/ McDonald)
BUSINESS ARISING FROM PREVIOUS MINUTES (Verbal updates)
5.6     Brunswick Heads Nature Sculpture Walk
Sam Collyer and Mimi Dennett attended to provide a presentation on the outcome of the Brunswick Nature Sculpture Walk held in October 2015. A letter will be provided from the organisers about the possibility of funds to support the purchase of one of the sculptures. Current plan is to hold the next BNSW in 2018 (triennial).
5.5     Murals and Public Art in Byron Bay – Byron Bay Chamber of Commerce discussion
PAAP members and representatives of Byron Bay Chamber of Commerce (Daniel McGill and Deborah Benhayon)) discussed public art in Byron Bay and desired outcomes. The Chamber are currently looking for collaborative partnerships around holding an art event (perhaps a month long during December) to activate the town centre. Possible partnerships include SAE, Arts Northern Rivers, Byron Visitor Centre and Council.
5.1     Public Art in new development – update
Deferred until next meeting when Rebecca Townsend would like to present concepts to the PAAP.
5.2     Priority public art locations in Ocean Shores and Suffolk Park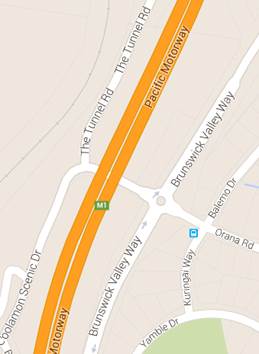 Rick Molloy and Paula Cordeiro have been researching some possibilities, particularly with the Orana Rd/ Brunswick Valley Way roundabout and road reserve.
Features of this site include:
·    Large grassed areas for landscape design or public art
·    Transport hub possibilities (bicycles, buses, car pooling point)
·    Historical significance
·    Some Aboriginal significance (yet to be investigated)
·    Potential trail initiation point (bikes, arts trail, driving trail, etc).
Action:
Paula Cordeiro to discuss possibilities at this site with artist Wendy with the PAAP to consider further investigations at next meeting.
5.3     Mullumbimby Sculpture Walk
Suvira McDonald reported:
·    Base of the sculpture (stirrups) have been made
·    Poles have been acquired and are currently being painted
·    Installation prior to end of March 2016
·    Creative Partnerships grant needs to be acquitted by end March 2016.
5.4       Public Art Small Grants Program
2015 grant program, only outstanding grant process is for the Memorial Seat in Brunswick Heads. Joanne showed recent photos taken of the seat in progress.
2016 grant process can begin with submissions provided to next PAAP meeting for consideration.
PUBLIC ART PROPOSALS
6.1     Public Art on Byron Shire Water and Sewer Infrastructure
For the Water Infrastructure EOI, one submission was received. For the Sewer Infrastructure EOI, seven submissions were received. The Water Infrastructure EOI was assessed by the Indigenous Arts Officer from Arts Northern Rivers and comments were relayed to the PAAP. The PAAP identified one submitter of the Water Infrastructure EOI and two submitters of the Sewer Infrastructure EOI to request further information and concept designs from.
Staff reported that this commissioning process highlighted some areas for improvement in art commissioning by Byron Shire Council. Not all submitters provided the same information, making assessment against criteria difficult. Staff are working on an EOI Template for the website which all artists will be asked to complete for future projects. Staff are also in discussion with Arts Northern Rivers about a regional project to streamline public art processes in Councils, and increasing capacity of emerging artists in applying for government art projects via workshops and information sessions.
Actions:
·     Staff will seek further information including budget, risk assessment and insurance from preferred candidates Tribal Renaissance (water infrastructure project) and Kelly Reiffer and Turiya Bruce/ Karma Barnes (sewer infrastructure project). A template will be developed to ensure consistent and accessible information is provided.
·     The four main locations to focus on in the sewer infrastructure project are the Wategos sewer pump station, the two small buildings at the Byron Bay Rec Ground and the sewer pump station at Bayshore Drive, Byron Bay.
·     The artists will also be requested to provide concept designs and a concept design agreement will be entered into with the three selected art groups, with a payment of $500 on delivery of concept designs.
·     The water infrastructure project will be broken down into two stages, with stage one being on the Watego's Reservoir and stage 2 the Patterson's Hill Reservoir. (There was discussion about works at the Patterson's Hill Reservoir – a lookout, car park, start of walking trails, picnic table, lights/ night art installation, monument to landholder that donated the land).
·     Further information collected and concept designs will be considered at the next PAAP meeting.
6.2     Public Art Proposal – Repair of Pelican Sculpture at Uncle Tom's
RECOMMENDATION 6.2:
That the Public Art Assessment Panel recommend to Council to provide an allocation of $600 towards the repair of the Pelican Sculpture at the gateway to Mullumbimby at Uncle Toms.
 (Spooner/ Molloy)
8.       DATE AND TIME OF NEXT MEETING
The next meeting of the Public Art Assessment Panel will be changed to 2 – 4pm 5th May 2016 (12th May is no longer available).
There being no further business the meeting concluded at 4.30pm.