13.3 - Attachment 1
1. 
Introduction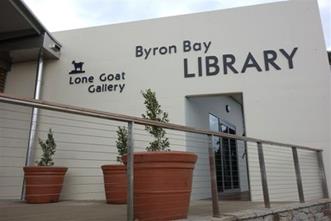 The Committee of Management of the Lone Goat Gallery has developed this strategic plan with assistance from Byron Shire Council and consultant Maggie Brown.  It provides the Lone Goat Gallery (LGG) with a 3 year road map for programming and organisation development.
The Committee has constructed the plan on the platform of a preliminary version that was drafted in 2014.  It is built on the mission, vision, core operating values and commitment underlying the Gallery's approach to its work.
The environmental scan and organisational assessment has helped the Lone Goat Gallery assess both the challenges and opportunities it is likely to face over the next three years and set the context for the choices reflected in the strategic plan.  The Committee will review progress bi-annually and progress its plan of action on a continuing basis.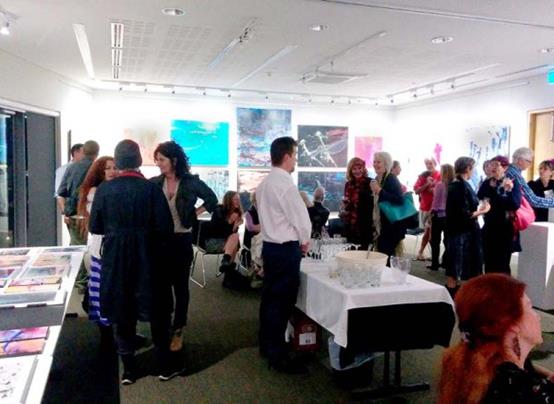 The Lone Goat Gallery is a community run Gallery supported by the work of an entirely volunteer Committee and dedicated group of 40 volunteers.  It was established in 2013 with the purpose of exhibiting and celebrating the work of both established and emerging artists from the Byron region and beyond.
[1]
It is located in the Byron Bay Library building and is supported by Byron Shire Council.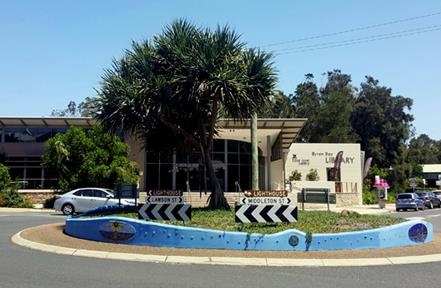 The Committee has delivered significant outcomes for Byron Shire Council. They have utilised their collective expertise with tireless effort into the resolution of management and operational challenges, to the extent that the Gallery is now providing a highly professional showcase for the visual arts in the Byron Shire.  In an LGA that has gained worldwide recognition on the basis of its creative community, the Gallery provides access for a diversity of visual artists and represents a cultural, social and economic asset of considerable value with a hitherto low financial investment.
The Lone Goat Gallery is at an exciting and expansive stage of development. To guide this next stage of growth, we conducted a strategic planning process that has included input from volunteers and feedback from the community and the[2] artists we support.
We have researched NSW Creative Industry strategies and Regional Arts bodies' reports, and brought our goals into alignment with Byron Shire Council's own strategic directions.
We solicited input from external stakeholders such as the 'Ballina Northern Rivers Community Gallery' and 'Arts Northern Rivers' the peak regional arts organisation.
We have collected data and reviewed our performance over the past 2 years of the Gallery operations.  We have identified the strengths and opportunities of our Gallery as well as the weaknesses and threats that face us in uncertain economic times.
Based on this process, we developed a disciplined long-term approach and action plan to expand the scope and impact of our work.  This strategic plan provides a clear blueprint for the Lone Goat Gallery's future.
At its core, the plan shows the way toward building on our strengths as a nexus for innovation and excellence in the visual arts field in the Byron Shire and wider region.  It outlines a focused direction for diversifying and consolidating the work of the Gallery over the three year period by:
o Engaging the services of a professional Gallery coordinator
o Developing robust working relationships with a range of arts organisations and groups, including the library, for the benefit of clients and the community
o Developing a sound financial basis for the future of the Gallery
o Building on the great reputation the Gallery has established by expanding upon[3] its visual arts programming[4] to include (in partnership) off site public arts events and pop ups.
o Developing a marketing and promotions strategy that will capture new audiences and attract high profile income generating exhibitions
o More effective harnessing and utilisation of the skills of highly qualified and expert volunteers
o More effective resource sharing through the development of strategic partnerships.
The Lone Goat Gallery is well located in a popular tourist destination that receives in excess of 3,076,000 visitors per annum; it is in a prime position to enhance the profile[5] of local artists to new and international audiences.
It is the intention of the Gallery to attract a wider percentage of these visitorsto give them an enriched experience of this nature that they would not normally have here by seeing and [6] experiencing the creativity[7] in the Byron Region. This will be achieved through programming, targeted promotion and strategic alliances with business and tourism as well as with regional arts groups.
The Northern Rivers area and Byron Shire in particular is a 'hotspot' of creativity. However, with the exception of the music and book festivals the visual arts are under-resourced and randomly organised. There is much potential benefit to be gained by the consolidation and networking of the groups, galleries and arts schools. This can create an economy of scale around the attraction of investment and funding and delivery of public arts projects.  There is every indication that funding will be available for such a collaborative outcome.
The Gallery will work closely with Arts Northern Rivers in 2016 as they have a focus on the visual arts for the year ahead.  There exists potential to do joint projects on artist development seminars and talks and exploring new initiatives utilising the NBN to create on line art markets. Wider markets and increased sales and artist recognition could be achievable outcomes over time, with appropriate resourcing. 
In order to progress the strategic aims of the Gallery it has to grow into a bigger role. This growth is currently impeded by the need for paid professional staff.
The volunteer Committee has reached capacity in relation to the workload the Gallery is now generating.  There is an urgent need to source funding for a Gallery coordinator who with the help of the Committee, can progress all elements of their strategic plan.
It is noted that all other Local councils in our region entirely support regional and community Gallery positions.

The Lone Goat Gallery was established within the newly constructed Byron Bay Library building in 2013.  It receives the support of Byron Shire Council and operates under the Council's 355 Committee structure. It consists of seven volunteer community members, a Byron Shire Councilor and an ex officio Council representative.
The Lone Goat Gallery name is inspired by the[8] quirky female goat that had lived on the Byron Bay Headland for many years with her herd, and a further eight years on her own.  The name sums up and represents the free spirited independence of the organisation. It is intended to reflect the iconoclastic nature of the Byron Shire that makes it so special.
The Gallery is located within a civic and recreational precinct that is close to the centre of the town, beach, night life, restaurants and hotels.  Byron Bay in 2016 attracts wealthy domestic and international visitors[9] from all parts of the world. In 2013 the figure for visitors who spent at least one night in the town was 3,076,000 per year.  This high level of visitation generates a combined retail and accommodation income of $277.8 million per annum.
Since opening the Lone Goat Gallery has become an important asset to the artistic community of Byron.  In 2015 the Gallery annual visitor numbers are averaging at 70 – 80 persons per day and sometimes in excess and in low non holiday periods approximately 40 per day.  It is unique in being open to the public 7 days a week from 10.00qm to 4.00pm with the exception of Christmas day and New Years' Eve. In its short life it has built an enviable reputation for the quality and range of its exhibitions, and for its extensive engagement with the arts community.  The constantly changing diverse exhibitions fortnightly (or three weekly) provide continued interest for the viewer. The Gallery is fast becoming a 'must see' venue when visiting Byron Bay.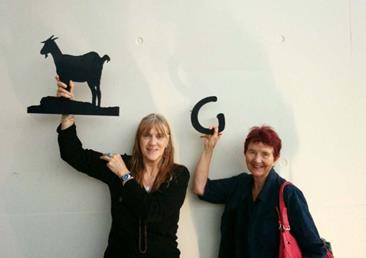 To provide a community supported and operated Gallery that showcases the creative diversity of artists both within and outside of our Shire. The Gallery expresses an intrinsic link to our identity, environment, sense of community and passion for the visual arts.
o The fundamental purpose of the Community Gallery is to provide cost effective access for local international and Australian artists to an exhibition space that would otherwise be unaffordable to them in a commercial setting.
[10]
o Through their exhibitions, educational support and promotional activities the Lone Goat Gallery helps to enable the careers of visual artists of the Byron Shire and beyond. For many, having access to such an opportunity can be the key factor that helps to launch an arts career and introduces an emerging artist to the arts market. 
o The Gallery, as a not for profit enterprise, builds and enriches the cultural and social capital of Byron Bay, the Shire and beyond, through its work with volunteers.  Our volunteers gain new skills, share their expertise and in return gain meaningful social engagement by carrying out the operations of the Gallery in a way that significantly contributes to their wellbeing. Through their efforts they help to build community capacity with the cross fertilization of ideas, the staging of events and the development of new social and arts networks
o The Lone Goat Gallery is another brick in the construction of a viable accessible and professional platform for exhibiting and developing visual artists of the region and beyond[11] . With its prime location the Gallery has a key role in providing[12] a showcase for the artistic[13] diversity already well known for its eclecticism and innovation
o The Lone Goat Gallery anticipates a future strategic role in the consolidation and networking of existing disparate art groups and organisations. Such an approach will allow for increased collaboration, professional development for artists and enhanced audience education and support.
The Lone Goat community art Gallery sets out to provide a Gallery to showcase the art of the region and to support and exhibit local artists.  By exhibiting high profile local artists in addition to emerging and visiting artists[14] , the Gallery brings varied and interesting work of a consistently high standard to the public.
o It takes seriously its role of educating artists as well as entertaining the members of the local community and all those who visit from outside the area.
o The Gallery intends to add to and enrich the cultural capital of our region and of Australia.
o It creates an opportunity for both artists and the community, by linking the audience with the work of the artist.
o The Lone Goat Gallery educates artists in the skills of showing, marketing and promoting their work to wider audiences.
o It trains volunteers in how to present and produce an exhibition and how to interpret the work of the various artists to Gallery visitors.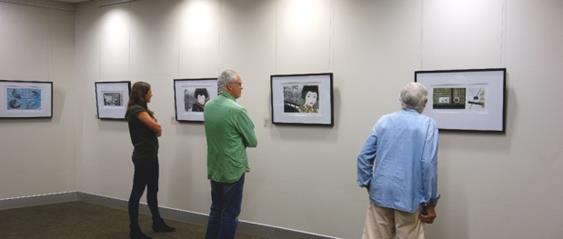 The Lone Goat Gallery seeks to exhibit art that is innovative, of a high standard[15] , contemporary and diverse.
Its aim is to grow the development of local artists.  Through Gallery exhibitions[16] , artists are provided with an opportunity to reach local, national and international art buyers and markets.
The Lone Goat Gallery's vision is to create well-coordinated collaborations and partnerships with regional and community galleries and other organisations.  Such partnerships are expected to bring exciting exhibitions and arts events to the community that will grow and enhance support for the visual arts industry in the Northern Rivers region.  This in turn enriches the local community culturally, economically and spiritually.
At the Lone Goat Gallery we have:
o A passion for art in diverse forms
o Inspiration for those either exhibiting or visiting the space
o Strong engagement with the community
o Support for artists, whether emerging or established
o A desire to grow and strengthen the visual arts in our part of the Northern Rivers region.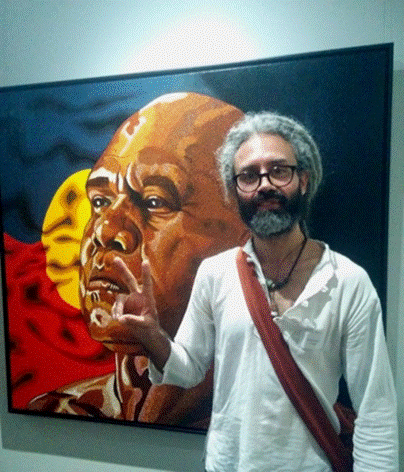 The Strategic direction and goals included in this plan are the Gallery's response to its understanding of what its artists and visitors value most about the Lone Goat Gallery. 
It incorporates current opportunities and challenges, together with the critical pathways for enabling the continuing improvement and development of its programs.
The three year period of the strategic plan will be a time of assessing, consolidating and developing the Gallery's approach to its work. With extra resources, over time it will pursue strategic collaborations as a way to broaden and diversify the basis of its programming.
The overarching intention of the plan is to safeguard its artistic vision and financial sustainability. With a fresh perspective on its core mission, understanding what it does well and the environment in which it operates, the LGG commits to the following strategic directions:
The plan will act as a 'living' document - a basis on which direction is maintained even when plans change:
1.   To broaden and strengthen the recognition of the Lone Goat Gallery in the Byron Shire and beyond
2.   To consolidate the internal structure of the LGG and to engage a paid Gallery
coordinator
3.   To develop even further a highly diversified program
4.   To remain responsive to local artists and the Byron Shire community
5.   To encourage and build mutual value into the volunteer experience of working with the Lone Goat Gallery
6.   To provide for the long term financial stability of the Lone Goat Gallery
7.   To build capacity in the visual arts field by making strategic and mutually advantageous collaborations with artists, other galleries, peak arts bodies and organisations which we believe will further our vision.
1.   To broaden and strengthen the recognition of the Lone Goat Gallery in the Byron Shire and beyond
1.1       The LGG will develop an effective marketing and promotions strategy to include printed media, website upgrade, social media and the production of a short film to promote the Gallery. The strategy will address the issues of who, what, where and when in a promotions schedule that will include a focus on identified targeted audiences. e.g. visitor profile, tour companies, resorts, hotels and visitor centres business groups, Tourism NSW, regional galleries, with the support of Local, State and Federal bodies and organisations.
There will be a marketing and promotions allocation in the LGG operational budget.  Sponsorship for print media advertising will be sought.
1.2       Develop a presentation package including a 4 minute film, to be used as a promotional resource when pursuing sponsorship and philanthropic funding. The presentations will be rolled out to targeted individuals, service clubs, schools foundations and business groups. All promotional resources to be used as material in grant applications.
KPI:      By 2017 the LGG will have developed a fully operational marketing and promotions strategy with a budget and outcomes that are measurable by:
o    Number of presentations
o    Number promotional events
o    Increase in visitor numbers by 50%
o    Number of promotional products eg DL's flyers posters & short film by June 2016
o    A social media strategy
o    New look website
2.   To consolidate the internal structure of the LGG and to engage a paid Gallery coordinator
Secure funding to engage a skilled arts industry worker to manage the day to day operations of the Gallery, leaving the Committee time to progress a more strategic focus. Funding is to be sought from Byron Shire Council, Arts bodies and philanthropic and government grants.
The Committee will undertake a transition to becoming a Board of Management in 2016.
KPI:                  Board of Management transition will be commenced and completed by June 2016
o    Pending funding support a paid coordinator will be engaged forthwith
o    Grant writing to commence immediately pending approval of Strategic Plan in early 2016
o    Amount of funding grants completed and lodged
o    Amount of funds attracted to the LGG
o    Assessable over 3 year period - evaluated quarterly
3.   To develop even further a highly diversified program
3.1       The Gallery will develop a diversified program of events that is intended to stimulate, showcase, and be interesting to the community.  This may include using the Gallery space for high profile touring exhibitions, pop ups, art talks, Library and Book festival collaborations. The key focus will be on artists and art makers while continuing to contribute to the cultural enrichment of the community.
KPI:   Commencing in mid - 2016 with annual evaluations, measurable by end of 2019
o   The Gallery calendar and diversified events either onsite or in pop up locations
o   Evaluated by amount and duration of exhibitions and like events
o   Number of visitors and feedback through electronic evaluations
o   Number of Artists exhibited
o   Number Collaborations initiated and  achieved
o   Independent reviews of output, events and exhibitions
4.   To remain responsive to artists and the Byron Shire community
4.1       By carrying out close consultation with artists, arts groups, community and cultural organisations, assisted by the design of effective feedback mechanisms, the Gallery will continue to maintain and shape a vibrant and diverse calendar of activities. Visitor feedback will be sought and used to improve the provision of services. 
The program will consistently reflect the skills and range of creative artists and art makers in the Byron region.  LGG will further assess artist, consumer and community needs in order to create opportunities for increased collaboration between galleries and arts organisations within and beyond the Byron Shire.
4.2       The Gallery will continue to efficiently support artists to exhibit and to market their work. In addition to Gallery sales, professional development via talks and workshops in partnership with Northern Rivers Arts, SCU, TAFE, regional and community galleries and the Byron Art School will be included.
4.3.      The Gallery will develop a Lone Goat Gallery Prize as an annual event.
KPI:      Number of formal and informal consultations and meetings with key outcomes documented
o    A revised annual calendar of activities that accommodates ticket-able or income generating events
o    Number of external and internal events and collaborations  e.g. pop ups
o    Number of  arts talks for general audiences
o    Number of talks and workshops for arts professionals
Work on the calendar and scheduling of events will commence in 2016 and will be stepped out over the three year period of this strategic plan. These targets and measures will be in line with resource availability and the capacity of the Committee and volunteers to implement the developmental work necessary to achieve strategic outcomes.
5.   To encourage and build value into the volunteer experience of working with the Lone Goat Gallery
Work actively with volunteers to implement a best practice induction and training program.
o Investigate volunteer skills on first contact.
o Enable interested qualified volunteers the opportunities for increased engagement with higher level responsibilities, e.g. event design and management/ newsletters  website content and blogs.
o Establish project- focused working groups.
o Work with a local RTO to offer certificated customer service qualifications for interested volunteers.
KPI:
o    Reviewed and effective volunteer processes
o    Number of volunteers
o    Number of working groups
o    Number of certificated volunteers
o    Number of volunteers responsible for higher order duties
o    Number of events, projects or initiatives resulting from targeted approach
o    Volunteer feedback
o    Visitor feedback
Rollout and implementation of volunteer engagement will commence in 2016 with two planning workshops and a review and update of existing intake and training documentation. With sufficient interest and uptake, working groups will be established to implement specific directions and projects outlined in the strategic plan. To be reviewed on an ongoing operational basis and completed by 2019.
6.   To provide for the long term financial stability of the Lone Goat Gallery
Consolidate the financial position of the Gallery by reviewing current operations, costs and charges and by developing new strategies to prevent the loss of income through unpaid commission fees.  The financial forecasts and budgeting will entail a process of continual updating and adjusting as related to the proposed changes in the exhibition calendar.
Develop an affordable membership/sponsorship initiative program for the Gallery e.g. silver, platinum, gold, to ensure ongoing financial support for the Gallery.
It is to be expected that with an updated marketing and promotions strategy and the ability to seek and attract funding, the LGG can also hope to increase earnings through the delivery of financially viable bookings over the ensuing three year period.
Develop a business plan for the management of the foyer and verandah areas of the Gallery to create extra income for the Gallery.
The Committee will work through the design aesthetics and operation of the expanded areas, with attention to associated issues of security access at weekends. Signage, staffing and other opening hour logistics, including insurance and compliance requirements will be addressed, to evaluate whether LGG has the capacity to utilize these spaces.  The Gallery will liaise closely with Council's properties, maintenance and governance staff in addition to the Byron Bay library management.
KPI
o    Completed review of all fees, charges, costs and artist contracts
o    Increased income from sponsorship program and from successful grant applications
o    Raised income generation from external areas of the Gallery e.g. foyer and veranda measurable by income flow
7.   To build the capacity of the Byron Shire visual arts industry
Lone Goat Gallery is committed to developing and increasing the range of their creative partnerships.  Being a part of the process of creating improved integration of arts groups operating in the Byron region will be of mutual benefit to artists, galleries and the viewing public. A better integrated arts sector can provide increased economy of scale in a number of ways that can have flow on benefits to the wider community.  Such a collaborative way of working can open up possibilities for a rich cross fertilization of arts ideas and projects.
Potential partners: Art schools, Schools, TAFE, Southern Cross University, community and regional galleries and arts resource agencies such as Arts Northern Rivers, the Byron Shire Council and the Byron Community Centre in addition to tourism bodies and the Byron visitor centre. The identified benefits of such networks and partnerships are many for the community and for practicing artists.
Expected outcomes could include:
o Internships and mentorships
o Arts education events
o Arts spaces and co-working
o Shared publicity contacts and links to social media sites
o Online marketing
o Crowd funding
o Joint planning over Shire or region wide themes or festivals
o Student shows
o Travelling exhibitions both local and high profile (eg. Archibald Prize)
o Joint funding for projects eg. pop ups or visual arts events
o Cost and resources savings
o Shared volunteers and expertise

6. 
Long Term Vision
The Long Term vision of the Gallery is to have access to a large and dedicated Gallery space with sufficient room for café / restaurant/shop or other compatible commercial enterprises providing an income stream to support its activities. 
There is no purpose built arts centre in the Byron Shire. In time there could be a future for an integrated theatre, community Gallery and creative arts space with a social venture to support the enterprise.
It is hoped that the work set out in this strategic plan will provide some preliminary steps on the road to this goal.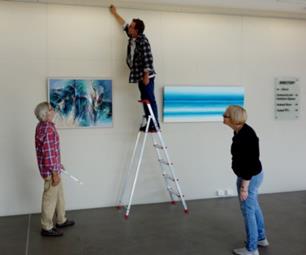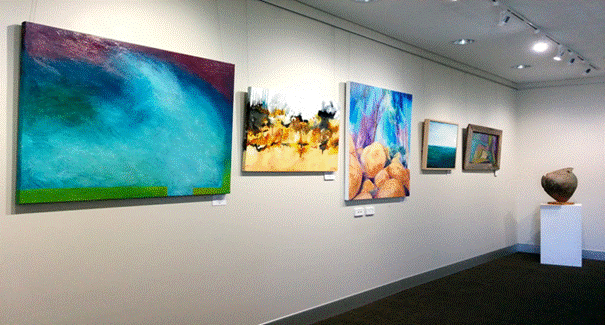 Strengths

Weaknesses

o Place - is embraced by the community

o Builds cultural capacity

o Good venue and location for visitors

o Delivers benefit to the community, Local Govt, artists (both new and emerging )

o Has an important role to play in the regional arts scene

o Makes artists work accessible

o Opens doors for emerging artists

o Offers interesting volunteering experience

o Has a diligent volunteer staff

o Educates both artists and the community

o Has strong links and support from the community

o Is highly utilized and regarded

o Sets a high exhibition standard

o Hosting the Archibald was artistically and financially valuable

o An experienced Committee of management

o Artist lead pricing

o Fast turnaround of exhibitions

o Heavy reliance on volunteers  who come and go

o Needs a paid coordinator

o Perception of value is linked to who is presenting the work

o Sunday access to facility is poor due to inadequate signage

o Under resourced

o Committee overworked

o Relationship with library less than optimal

o Poor marketing and promotion

o Availability of caliber artists

o Low sales and loss of income from sales

o Foyer wall negotiations unsatisfactory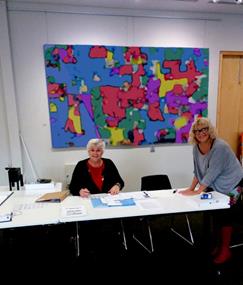 Opportunities

Threats

o Implement the strategic plan to direct the future direction of LGG and apply for funding for a paid Gallery coordinator

o Develop a stronger and more skilled volunteer base

o Take the opportunity to use verandah and foyer spaces to generate extra income

o Re-organise the exhibition calendar by reducing the number of shows but lengthening duration

o Review fees and charges, income and costs to set targets and create a 3 year financial plan

o Adjust the calendar to facilitate pop ups talks and other (potentially income generating) events

o Attract more high profile exhibitions

o Develop strategically rewarding relationships with other arts orgs groups and bodies

o Commence a graduate intern program

o Develop a sponsorship and patrons program

o Engage business and tourism operators to increase visitor numbers and sales

o Create a marketing and promotions strategy

o Challenges of maintaining momentum

o Loss of reputation if the Gallery fails

o Need a medium and long term financial strategy

o Lack of security at the Gallery site

o Competing for funding

o Competing with other galleries

o Ability to sustain Committee workload

o No succession planning

o Downturns in the world/ Australian economy

o Changing demographics  could mean more or less money in local economy

o Housing prices - less affordable for artists to remain in the Byron region

o Loss of Council support due to local funding priorities
8. 
Financial Overview January 2016
Current Financial Situation
Currently held in the Gallery account at Council  -                                         $9,342.23
Currently held in the Gallery account at Westpac, Byron Bay  -                    $5,092.73
Amount held in Byron Bay account owing to artist  -                                     $1,856.40
Total available funds                                                                                    $12,578.56
Regular monthly expenses at the current rates:-
Cleaning  -                                                                                                           $224.40
Eftpos machine rent  -                                                                                          $55.00
Bookings officer   -                                                                                              $428.60
Volunteer coordinator incl phone expense -                                                      $448.60
Total regular expense per month                                                                 $1,151.60
The bookings so far for the year 2016 are similar to those at the start of 2015.
It is expected that we have income for 2016 roughly similar to that of 2015.  There are many variables of course.  Negative impact could be fewer bookings, lower sale figures, and unexpected maintenance expenses, further paid positions, exhaustion of numbers of exhibitors. 
A positive impact could be an increase in bookings, review of Gallery hire rates in June, enhanced by organising events such as "Art in the Park" or pop-up exhibitions in the library foyer. These would require the employment of a full time paid person to organize.
It is to be expected that we will be in a stronger position to apply for funding and better able to promote the Gallery to potential sponsors and benefactors.  An improved publicity presence will attract more visitors and broaden the support base of the Gallery. 
At this point no large expense is envisaged in 2016.  In 2015 approx. $2,000.00 was spent on hand dryers and lighting.  The 2015 net income was approx. $3,800.00.  It may be reasonable to expect at least a similar income for 2016 and for 2017 and 2018.
LGG has reached a decisive point in its development. The achieved success through popularity, community engagement and high volume exhibitions has substantiated the need for a community run Gallery in Byron Bay.  Through research it has identified the challenges and opportunities that remain to be exploited for the further success of their enterprise.
Over the next three years the Lone Goat Gallery will be faced with the feasibility of being able to continue to operate at the pace it has done since its inception in 2013.  Keeping up high exhibition standards has workload costs that are increasingly difficult for the volunteer management Committee to sustain.  The two week exhibition changeover is demanding on volunteers and Committee members; it needs to be reviewed to find a more manageable schedule.
The critical success factor for the Lone Goat Gallery going forward, will be the ability to engage a paid Gallery coordinator to meet current and future demand.
Opportunities exist to review and reorganize the current operations to have a more efficient and effective use of resources:
o To get more skilled help by identifying and engaging high value volunteers and by creating strategic alliances to attract funding and broaden the base of LGG operations both physically and conceptually.
o Create a development focus that will allow for innovation, enterprise and collaboration, will offer the Gallery an opportunity to grow and expand its activities for the benefit of local artists and the viewing public.
o Target and focus on attracting potential Gallery visitors from the large visitor numbers that frequent the town.
o Review fees and charges and explore of commercial opportunities through occasional collaborations with for-profit organisations.
o Prepare a strategic financial plan that will set the Gallery on a sustainable path for the future.
The Northern Rivers region as a whole is an identified hub of creative output.
It has 2254 people employed in the creative industries.  The Byron Shire alone has over 1500 practicing artists 44% of whom have been professionals for more than 20 years.  It is also a place of new and emerging visual artists, many of whom benefit from the richly creative cross fertilization of ideas and arts disciplines on offer in the region.
This high level of engagement in the arts makes for the distinctive and vibrant nature of our region.  Creative arts in the region are growing at 25% per annum faster than any other element of the regional economy. Cultural and heritage visitors spent approximately $8.3 billion in NSW in 2013.  According to Access Economics the NSW creative industries are forecast to grow at an annual average rate of 3.1% to 2020, compared to 2.7% per annum for the NSW economy overall.
As such the arts have enormous potential for cultural and creative investment, if there is adequate infrastructure to make such investment worthwhile.
The Northern Rivers is predicted to grow by 1.2% per annum. Its population increased by 60,000 in 2013.  With existing high levels of unemployment, declining farming and traditional industries and an ageing low income community, it is vital to support, develop and monetize the creative arts of the region.
The whole of Byron Shire area has experienced a 1.9% rise in population since 2003. There are 167 Creative and Performance arts services in the Byron Shire. This makes up 1.6% of the local industries (the NSW comparison is 0.4 )
Some characteristics of the region (in comparison to NSW as a whole) are:
o a large migration away from the region by those aged 20 to 34
o a higher proportion of older persons compared with New South Wales and Australia
o low labor force participation rates compared with NSW and Australia (Department of Education, Employment and Workplace Relations 2012)
[1]However, 2008 Government reports show that the population of the Northern Rivers includes more creative practitioners than any other regional area of Australia. The region has a high concentration of creative professionals with a growth rate that far surpasses that of other regional areas.  Between 2001 and 2006, the creative industries were one of the region's top four growth industries, particularly in the fields of visual arts, design, literature, publishing, screen and digital content.
In the same period, the Northern Rivers recorded the highest creative industries employment growth in the state, more than double the Sydney growth rate and the highest concentration of creative industry workers.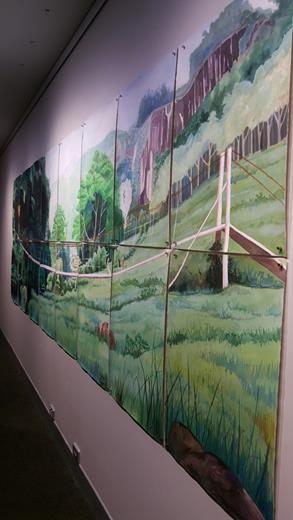 In 2008, Arts Northern Rivers conducted an audit of Northern Rivers Region entitled
Northern Rivers Region Arts & Culture Snapshot | 2013 2
The following extracts are from this document, the full report can be found at:
http://www.arts.nsw.gov.au/wp-content/uploads/2013/04/Northern-Rivers-Snapshot.pdf
'A total of 192 facilities used for arts and cultural purposes have been identified in a survey undertaken by Arts Northern Rivers. The three regional galleries – in Tweed, Lismore and Grafton – are a significant component in the cultural infrastructure of the Region, not only providing exhibition space but also nurturing local artists and stimulating audience development through their programs. There are no major purpose-built performing arts centres in the region. Public venues for theatre
include, amongst others:
The Northern Rivers Performing Arts, NORPA, (who manage Lismore City Hall) – which has been adapted into a performing arts space.
o Byron Cultural and Community Centre's small purpose-built performing arts space
o Tweed's two multi-purpose Civic Centres at Murwillumbah and Tweed Heads
o There are more than 20 volunteer-run community museums and historical societies across the seven LGAs in the region
o The Tweed River Regional Museum is the only professionally-run museum in the region
The Lone Goat Gallery is the only community based Gallery in Byron Bay the town which has the highest number of visitors of the Shire and of the region.
There are excellent media (digital video and music) facilities at School of Audio Engineering (SAE) Institute (Byron Bay) as well as at Southern Cross University (SCU), Lismore (including a small studio) and Grafton TAFE (Music and Digital Media Studios).  Festivals are a significant and high-profile component of the life of the region. Key arts and cultural festivals include:
o Byron Bay Writers' Festival
o Byron Bluesfest
o Mullum Music Festival
o Splendor in the Grass
o Byron International Film Festival
The region benefits from a number of industry associations and other professional bodies including:
o Arts Northern Rivers
o Northern Rivers Performing Arts (NORPA)
o Northern Rivers Writers' Centre (NRWC)
o Northern Rivers Screenworks
o Northern Rivers Conservatorium
o North Coast Entertainment Industry Association (NCEIA)
Arts Northern Rivers runs a range of regional networks and time-limited projects. These include:
Festivals and Events Network
Indigenous Arts Development Project & Network
Regional Museums Development Project
Creative Industries Consortium (CIC)
Major capital development projects include:
Lismore City Hall upgrade (NORPA)
Tweed River Gallery (Margret Olley Centre Gallery extension)
Tweed River Regional Museum (redevelopment)
The region's well developed educational facilities include two centres of SCU, six TAFE campuses and nearly 30 cultural educational institutions with specialist training in the arts, crafts, theatre and film. Recent funding cuts to the TAFE's fine arts courses has resulted in a reduction of courses and significant increases in demand for those that are available. These cuts represent a reduction in educational pathways for creative industry development for the region.'[2]
However, the Northern Rivers Arts snapshot report identifies the following opportunities:
o That this unique region presents to test, model and pilot new programs and innovative approaches
o Exploring the linkages between new technologies and new industries could be a means to keep young people in the region
o Vast reserves of creative industry professionals available to support mentorship programs '
o Sea/tree changers' bring skills and expertise to the region to be tapped
The Lone Goat Gallery is poised to take advantage of such opportunities and has the human and creative capital to grow into a substantial player in the developing creative arts industries of the region.  With the advent of the NBN the Byron Shire could well experience an influx of younger families, early retirees and creative workers moving to the area, enabled by high speed technology to work outside of metropolitan centres.
Online networking and social media forms offer further opportunities for virtual communities to aggregate collaborate and share knowledge. Digital technology enables creative businesses and people to connect and work together regardless of where they are located across Australia and the world. The NBN will enhance the ability of creative industries to form partnerships and communities online. The Australian Government encourages creative businesses and talent to pursue networks and partnerships both within the sector, with other industries and with state and local jurisdictions.[3]
With more integrated, better supported and coordinated visual arts infrastructure to connect artists to each other, to facilities and to the means of promoting publicizing and marketing their work, there is no reason why the Byron Shire cannot attract investment to the wide range of cultural products that is offered.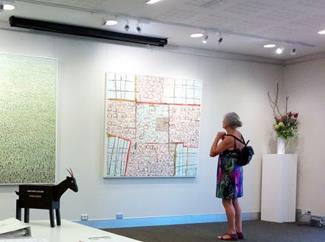 There is increasing demand from other industries to partner with creative businesses and talent to improve their own productivity, transform traditional methods or influence behavior.  Many Australians are motivated to establish or access creative communities and spaces to connect locally or digitally. The concentration or escalation of creative activity is often associated with thriving local economies.
Investors could support visual artists to export their creative output globally, as well as by funding arts projects and festivals across the State and local regions.
The Northern Rivers region and Byron Shire in particular, have experienced the proliferation of festivals of all types.  These events have been major attractions to visitors and touring artists for the past 15 years. Such activities are proven boosters of the local economy at many levels; exerting a multiplier effect economically as well as in terms of building cultural capacity and increasing visitor numbers.
With integrated planning it could be advantageous to align visual arts events to these festivals and broaden the variety of cultural experiences on offer to the public in addition to increasing exposure for artists.
Vibrant and livable communities attract the creative industries and help to form the very nature and attraction of these communities, somewhat like a honey pot effect.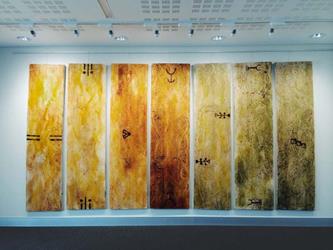 An Atlas id demographic study taken from the 2014 census shows Byron Shire Arts and Recreation Services are a growing part of the Local Economy.  The Arts and Recreation providers are not far behind information, media and technology.
The expected NBN high speed internet will see an explosion of knowledge workers moving to the region. This will significantly enhance the ability creatives to form partnerships and community on line.
The top four industries in the Byron Shire currently are:
Tourism                                                      $426 million
o                          Construction   $487 million
o                          Accommodation and Food Services  $84.8 million
o                          Retail Trade. $143.million
Some tourism facts
▪    Tourism is the principal driver of the Shire's economy. Tourism expenditure is estimated to have been $426 million (four year average to Sept 2014).
▪    Employment arising from that expenditure is estimated to be around 2,500 FTE jobs.
▪    Tourism impacts all economic sectors in the economy, notably retail, accommodations, cafes and restaurants and construction.
▪    81% of domestic overnight visitors arrive in the region by road with approximately 18% arriving by air.
▪    The majority of domestic overnight visitors are from Queensland (44%) and then from Sydney (18%).
▪    42% of International visitors arrive by long distance coach or bus.
▪    The majority of International visitors are from the United Kingdom (30% and then Germany (12%).
▪    In 2013, the estimated 526,000 domestic overnight visitors stayed an average of 3.5 nights while the 160,000 international overnight visitors stayed an average of 7.6 nights.
▪    In 2013, 680,000 day-trippers are estimated to have visited the Shire.
▪    The number of visitor nights in Byron Shire in 2013 was estimated to be 3,076,000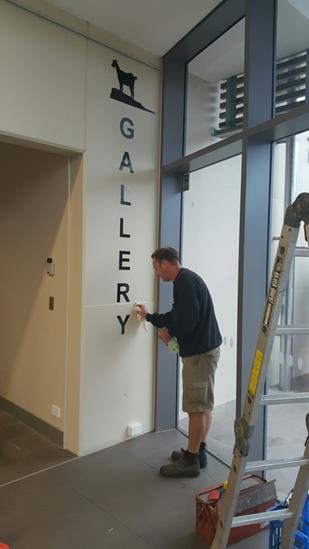 In the past 6 years 43 new arts and recreation services have entered the local economy.  The Arts and recreation industries in 2013-14 in this Shire generated $17.9 million, which was 1.8% of the total industry income contrasted with NSW at 1.1%.  The significant factor is that income from this sector went up 3.6% since the last census period.
With effective networking and integrated planning there are many ways that the visual arts industries in the Byron region could combine to capture a greater share of the tourist trade.  Examples could include hop on hop off Gallery tours across the shire that are targeted and promoted to particular sectors of the tourist demographic, art events that are aligned to existing festivals and other cultural events. 
With adequate resources Lone Goat Gallery could see a way of becoming a part of a collaborative network that would add cultural value to the visitor experience and provide greater access to art buyers. This was recently demonstrated by exhibiting an artist who is a music photographer, involved with the internationally renowned Blues and roots Festival.
The current markets can be defined by a number of categories:
o Visual artists and makers operating in the Byron Shire and occasionally beyond
o Visitors to the Gallery
o Business community
o Patrons and Philanthropists
o Volunteers
o Members
o Byron Shire Council as main support to the Gallery
The demographic range is across all age groups in terms of participating artists and viewing public. The Lone Goat Gallery recently exhibited Daniel Hend, a young artist well known in the area for his street art.  He has now evolved into a promising artist in the surrealist style and attracted an enthusiastic youth following while he maintained a daily presence at the Gallery for the duration of his pre- Christmas exhibition.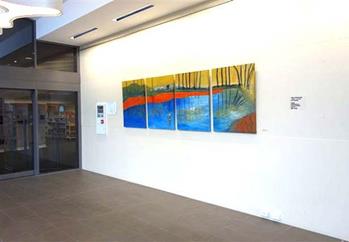 The key attribute of the LGG is that it is free to present an eclectic series of art[18] based activities[19] to the viewing public, as it is not hampered by the rigid aesthetics of commercial galleries. In this sense it is truly democratic and inclusive, providing access to all manner of visual artists on the merit of their work. The Gallery has a commitment to supporting indigenous artists wherever possible. The first exhibition of 2016 was that of Magpie who is a Minyunbal Yugambeh man from Fingal Heads Northern NSW.
In 2015 the LGG had exhibitions with Red Inc, an organisation that supports people with disability and featured separate shows for artists Zion Levy and Liam Bruce.
There is still much scope for the Gallery to connect with visitors to the area in a more structured and deliberate way, through strategic promotions, relationships with local tour companies, hotels and resorts and by carrying out more work on the targeting of high value (potential) arts buyers.
The main perceived competitors could be other galleries in the area but in fact LGG sees them as positive alliances. Being able to be flexible eclectic and have low running costs gives the LGG competitive advantages over commercial enterprises. There is great potential in the network of regional and community galleries to support each other and the artists to the benefit of the community and the viewing public.
Because of the prime location, the community support, high tourist numbers and the range of artists the LGG is an attractive potential collaborator.  Over the next three years LGG will be developing and implementing marketing plans to promote artists participants and guests and to build its audience.
Discussions are underway to set up a post exhibition temporary web Gallery of the exhibiting artists' work, on the Lone Goat website to extend the potential sales of work for a month following the end of the exhibition period.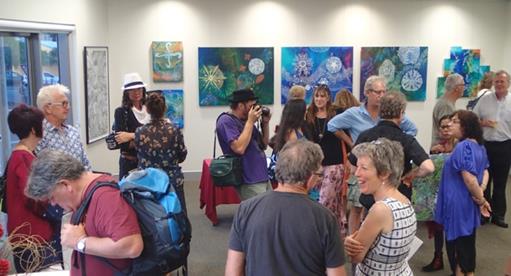 The Lone Goat Gallery is committed to achieving the necessary change processes outlined in this strategic plan. With the addition of a full time employee it will have the following resources and the capacity to guide and support the achievement of its goals:
o An effective Committee of governance that includes two professional artists, an arts administrator, lawyer, bookkeeper and educational expert
o A pool of highly skilled volunteers
o The support of Byron Shire Council for governance and guidance
o Advice and support from Arts Northern Rivers the peak body for the creative arts
o An achievable plan of action for 2016 that will be continuously updated
o Advice and information resources from the Northern Rivers Community Arts Gallery in Ballina Shire
As part of a change management process any business or enterprise must constantly examine its performance strategy, processes and systems to understand what changes need to be made. LGG will:
o Effectively communicate a clearly articulated plan for change to all involved in the Lone Goat Gallery operations
o Implement its strategies of action to make more efficient use of resources
o Set up systems of benchmarking and evaluations both internal and external for staff and volunteers
o Monitor the outcomes of its plans and take corrective action if needed
o Establish working parties to support the work of the Committee
o Streamline meeting procedures
o Review adapt and update the strategic plan and use it as a continuous guide to its work over the next three years
o Work systematically with the LGG Plan of Action for the ensuing three years.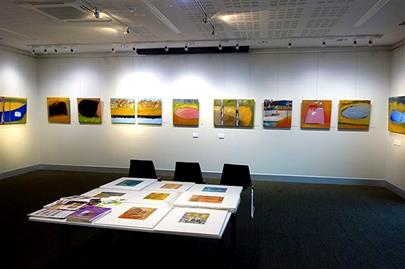 12.     
Management
Management of the Gallery rests with the Byron Shire Council appointed Section 355 Management Committee. As a Council owned facility the Council bears the primary responsibility to steer, support and ensure compliance with governance requirements. Council recruits the Committee by asking for applications and selects, on merit, the candidates who serve a 4 year term. The Byron Library Exhibition Space (managing the Lone Goat Gallery) Section 355 Management Committee includes a Councilor who is a full Committee member. They meet monthly to review and direct operational matters such as bookings, scheduling, publicity, volunteer training and other day to day issues that arise.
To date (Feb 2016) the Committee has adhered to the 2014 strategic plan and work done in 2014 -2015 represents considerable progress against stated outcomes.  With its 2016 -2019 Strategic Plan it can develop performance management policies, standards and appraisal practices to ensure continual improvement of its Gallery operations.
If the Gallery succeeds in the employment of a paid coordinator it will convert its governance structure to a Board of Management (BOM).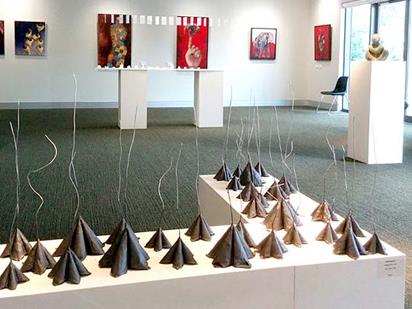 As a BOM they will be compliant with all necessary statutory requirements of the role within the Section 355 Committee structure.  The Committee will implement a performance management system, and seek professional advice and information on how to make it appropriate and relevant for Committee, volunteers and paid staff. 
The Committee will get guidance from publications such as the 'Essential Governance Practices for Arts Organisations' guidelines prepared by the Australia Council in 2011.
Legacy- the Gallery is implementing a process of documenting all operational procedures. It has in place a volunteer training manual, intake and booking forms and a policies and procedures manual that constitute the documentary products used in the day to day running of the Gallery. With continual updating this will act as a knowledge capital resource for volunteers, staff, incoming Committee members and Council.
The Gallery will rely on its current action plan that has short to medium and long term strategies to steer its direction over the next 3 years. This plan when executed will ensure change measures that can be introduced through planning workshops with volunteers, sub Committees and action groups within the Committee of management.
In the case of an exit plan the Committee will work closely with Council and allied bodies to either combine with other compatible organisations or wind up its operations.
Replenishment- The Committee has the skills to ensure that the Gallery continues. In case of a change of membership the current members will actively recruit for the skills and positions required.  A key benefit of the Byron region is the quantity and calibre of skilled retirees. Current members can reapply for further terms on the Committee and Council calls for new members every four years.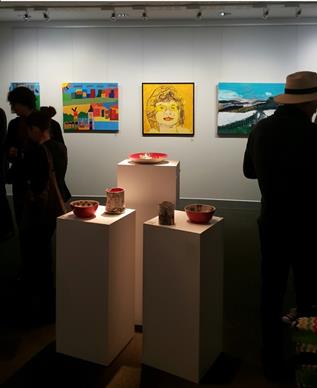 Byron Shire Council Strategic Plan 2022

Byron Council Deliverables

Lone Goat Gallery Actions

Economy

EC3.3 initiative is to 'Strengthen regional partnerships with peak arts organizations

LGG works closely with Northern Rivers Arts (NRA) the peak NSW regional body for the creative arts.  Plans for 2016 include joint delivery and assistance in the roll out and collaborations with the delivery of the NRA's visual arts capacity building strategy.

LGG works with regional and NSW State Arts groups, galleries and organizations to attract high profile exhibitions and events to a Council owned facility.  Recent examples: the Byron Book festival collaboration and the Archibald Prize selections, a first for the Byron Shire.

LGG intends to continue to develop the venue as a high visibility exhibition space for high standard work from local national and international artists.

LGG will carry out integrated planning to align visual arts events with the range of festivals that occur through the year. Through a targeted promotions strategy it hopes to greatly increase and attract new audiences to its exhibitions and events.

Society and Culture

SC2 – Achieve active participation in local and community life.

The Gallery is attractive to older and younger people alike. It is run entirely by (48) volunteers who find a valuable role in an exciting and dynamic community organization. Their involvement builds connection personally and across community networks. The skills and training they receive are of marketable value if seeking further employment.

The gallery has become known for its high quality exhibitions. It is connected to the community and visitors through its art shows, volunteers, liaison and collaboration with other community arts organizations in the Shire.

The LGG has a strategic goal of delivering collaborative shows and pop ups in  other venues including in the open air as part of a way to reach new audiences and create working partnerships with local and regional arts groups as well as other community organisations.

Society and Culture

SC2.4  Create vibrant livable places and spaces within towns and villages for people of all ages and abilities

LGG is diverse across a variety of visual art mediums; demonstrating the wealth of creative talent that makes the Byron area famous and so highly in demand as a tourist destination.

LGG contributes to the intellectual and cultural enrichment of the local community and to international and domestic visitors' understanding of the Shire's creative industries.

LGG has held exhibitions for diverse groups inclusive of young people indigenous artists and those with disabilities through its work with RED Inc. It attracts audiences across the full spectrum of the Byron (and beyond) demographic.

The Gallery adds value to the Library building by being open 7 days a week from 10am to 4pm excepting New Year and Christmas Eve. It is open for after - hour events such as gallery openings and other activities that add to the vibrancy of the civic space.