SUMMARY
Council has received a Traffic Management Plan (TMP) and Traffic Control Plan (TCP) for Splendour in the Grass (SITG) 2018 to be held on Friday 20 July 2018 to Sunday 22 July 2018.
Figure 1. Splendour in the Grass site map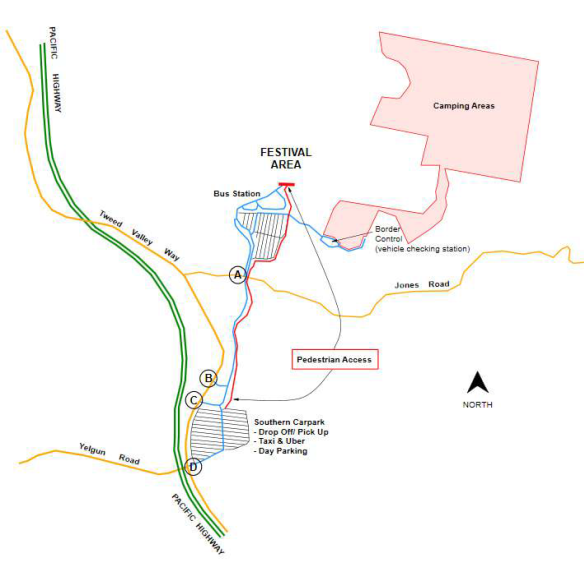 OFFICER RECOMMENDATION
That Council endorse the Traffic Management Plan and Traffic Control Plans for Splendour in the Grass 2018 to be held on Friday 20 July 2018 to Sunday 22 July 2018, that includes the installation and enforcement of No Camping and No Stopping signs between 6am and 6pm, subject to conditions at:
a) Tweed Valley Way
b) Brunswick Valley Way
c) Yelgun Road
Councils Parking Enforcement be invited to assist the event in maintaining compliance of no stopping areas within the Road Reserve.
LINKAGE TO OUR COMMUNITY STRATEGIC PLAN
| | | |
| --- | --- | --- |
| Theme | Economy | A sustainable and diverse economy which provides innovative employment and investment opportunities in harmony with our ecological and social aims. |
| Objective | EC1 | A diverse economic base and support for local businesses. |
| Strategy | EC1.4 | Support sporting and cultural events in Byron Shire. |
| Measures | EC1.B | Increase the sustainability of events in which Council is involved. |
BACKGROUND
Since 2001 Splendour in the Grass has been claimed as the biggest Winter Australian Music festival.
2017 TMP Improvements
• Improvements made to reduce the likelihood of pedestrians making the decision to leave the site by foot as per TMP section 8
• Pick-up/ taxi/ uber relocated to southern carpark to reduce conflict with buses. This will improve operational efficiency of buses (again reducing likelihood of pedestrians leaving the site by foot);
• Parking Enforcement is invited to assist with compliance of external no-stopping areas (day & night) to reduce likelihood of patrons being "dropped" and "picked up" on the roadside;
• 2 lane departures on camping departure day which was trialled successfully at Falls recently;
• Approximately 500 parking spaces at the Mullumbimby football Field for volunteers and staff
• Detailed TCP's provided for Gate C & Gate D;
• Buses will have exclusive use of the internal bus station for more efficient operation;
• Proposed road widening internally (north of the northern carpark) to provide 3 lanes to separate camping arrival traffic from operational traffic;
• Border Control (vehicle checking) improvements;
• The internal north/south spine road has been sealed recently to reduce dust and improve travel times;
• Improved internal signage to direct vehicles & pedestrians efficiently;
• Channelisation & management of internal pedestrian crossings to reduce conflict with vehicles.
The traffic management methodology for the 2018 Splendour in the Grass festival is similar to the methodology implemented during the 2017 festival, due to the success of the latter and the experience gained with events prior to 2017.
The 2018 Traffic Management Plan is provided a Attachment 1 (E2018/18486)
KEY ISSUES
1. Congestion caused by the event may directly affect a RMS controlled asset – Pacific Highway.
2. RMS Traffic Engineering Department are required to separately approve the TMP and TCP.
3. Pedestrian traffic along Tweed Valley Way and Brunswick Valley Way as festival goers leave the venue on foot in the event of traffic congestion inside the site.
COUNCIL IMPLICATIONS
§ Budget/Financial
The event organisers are required to pay for the relevant Approval of Road Events pursuant to s144 of the Roads Act fee as per the Fees & Charges 2017/18.
§ Asset Management
Not applicable.
§ Policy or Regulation
Speed Limit (as required) ROAD WORK (R4-212) - Delegated to council for authorisation in conjunction with NSW Road Rules 21 and AS 1742.4 (Speed Controls) Clause 3.1.2, AS 1742.3 (Roadworks).
§ Consultation
A condition of the endorsement of this event is that appropriate consultation is undertaken, including:
1. Advertising the impact of the event in the local newspaper and on the Council website.
2. Informing community and business that are directly impacted.
3. Liaising with bus and taxi operators.
4. Consulting with emergency services.
§ Legal and Risk Management
Congestion caused by the event may directly affect a RMS controlled asset – Pacific Highway. RMS Traffic Engineering Department requires to separately approval of the TMP and TCP.