Summary
That Council supports a Restricted Parking Area Scheme (in accordance with RMS guidelines) that includes Broken Head Reserve Rd and the length of Seven Mile Beach Road. Figure 1 below shows the location (in blue) where it is proposed to establish the Restricted Parking Area:
Figure 1: Location of proposed Restricted Parking Area.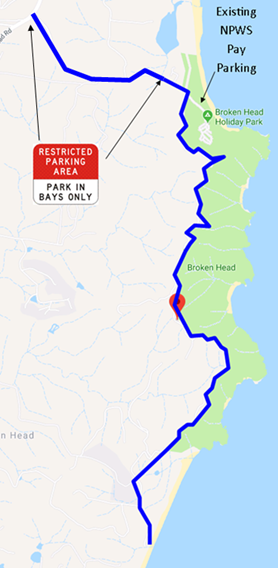 Background
Broken Head Reserve Road Village area and Seven Mile Beach Road are popular tourist destinations experiencing significant parking congestion and infringements.
Broken Head Reserve Road Village
The NPWS operate pay parking at the end of Broken Head Reserve Rd with approximately 100 spaces (refer to Figure 1 for the location of NPWS pay parking). Visitors avoid pay parking by parking in the Village precinct which does not have pay parking. However, there are approximately 34 formal car spaces but a far greater number of cars sprawled through the village and parallel parking along Broken Head Reserve Rd.
The sprawling nature of parking causes significant parking and traffic congestion with dangerous traffic and pedestrian conflict points. While Council attempts to manage this parking congestion through extensive signage and line marking, the signs need regular modification as people find loop holes and vandalise the signage.
Refer to attachment 1 for photos of parking areas within the Broken Head Reserve Road Village precinct and example of illegal / dangerous parking.
The introduction of a RPA would help create a safer compliant parking precinct and encourage cars to also utilise the NPWS car park more effectively. Works (such as: bollards, line marking and signage) are proposed as part of a parallel but separate project to clearly delineate approved parking areas.
An RPA would also significantly improve Council's ongoing maintenance of a significant number of No Stopping signs which are regularly vandalised and removed.
Through undertaking some minor civil works s part of the parallel project there is adequate and safe parking for approximately 55 cars within the Village precinct:
· Approximately 20 road side parallel spaces on the western approach to the village. Work is proposed to delineate these spaces (i.e. levelling, signage, gravel sealing – as required, bollards along southern road side within the village precinct to prevent parking – Refer to Attachment 1 Figure 8.);
· 14 spaces are currently bitumen sealed within the Village (a mix of 3 parallel spaces and 11 angled spaces);
· 20 spaces are currently gravel on the eastern side of the village and require no additional works.
Seven Mile Beach Road
A number of secluded but popular beaches that have been "discovered" are accessed via Seven Mile Beach Road. To cater for these popular beaches a number small car parks are located along the length of Seven Mile Beach Rd. Refer to Figure 2 below for their locations.
Kings Beach safely accommodates approximately 25 spaces, Brays beach 6 spaces, Whites Beach 13 spaces and Seven Mile Beach car parks 16 spaces. Refer to attachment 2 with a series of photos showing the parking congestion / non compliance occurring along Seven Mile Beach Road, especially in the vicinity of car parks.
The road is 4m, gravel and designed for two way traffic. Cars frequently parallel park illegally on both sides of the road causing parking and traffic confusion (refer to attachment 2). To manage this Council has installed No Stopping signs every 50-75m along the 4.7km length of Seven Mile Beach Road. This is a significant ongoing maintenance cost to Council as signs are regularly pulled out and thrown into the bush to prevent vehicles being booked. Related to this, visitors always look for loop holes to park in random places requiring constant upkeep and modifications to the signage layout.
A Restricted Parking Area would help the regulation of parking congestion and significantly reduce the ongoing cost and maintenance associated with the constant replacement of vandalised signs.
Specific RPA Requirements
The RPA objectives shown below (to provide LTC members with some background information) are taken from the RMS guide Restricted Parking Areas. Based on the above and the RMS objectives below, it is considered the conditions within the Broken Head Reserve Road and Seven Mile Beach Road meet RPA warrants: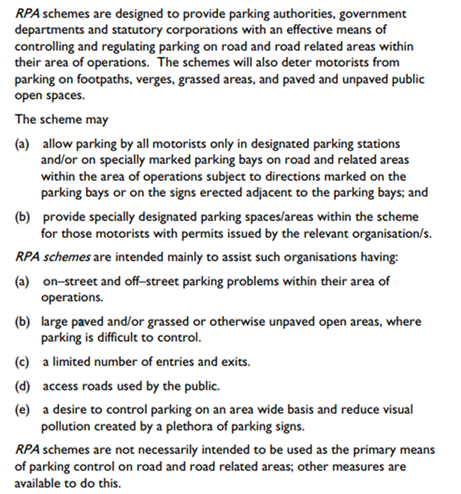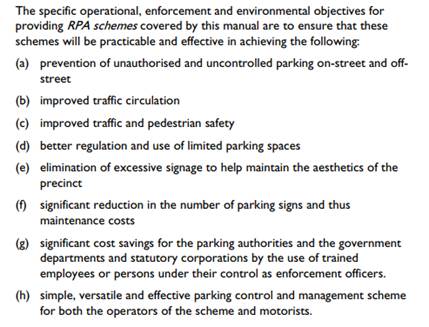 Associated Photos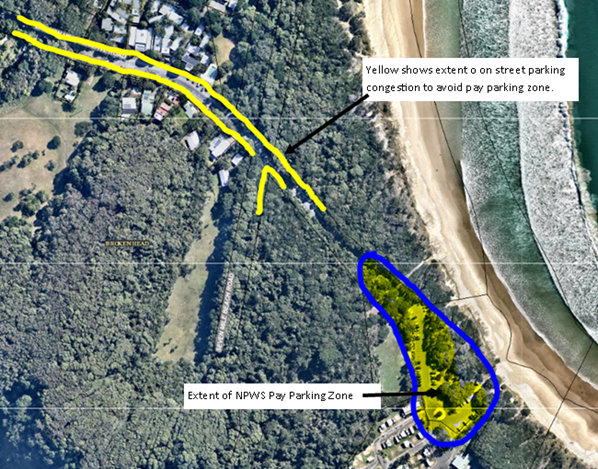 Figure 2 –Yellow lines show extent of overflow parking in the village precinct. Blue shows NPWS pay parking.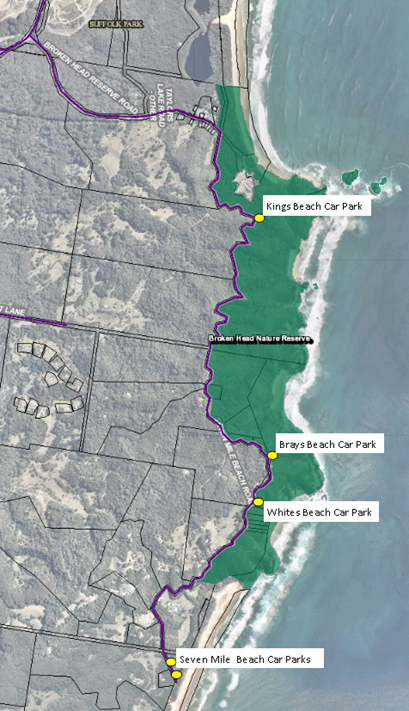 Figure 2: Location of car parks along Seven Mile Beach Road.
Considerations
i. Byron Shire Parking maps to be updated to identify the Restricted Parking Area,
ii. Civil works will be required to establish clear and identifiable parking station and parking bays,
iii. Inform compliance team compliance matters associated with Restricted Parking Areas.
iv. Update website with parking maps and information on Restricted Parking Areas
v. Anticipated cost estimate for minor civil works, signage, bollards and yellow lines = $165,000.
vi. This estimate excludes cost of works associated with:
a) Bitumen sealing of car parks along Seven Mile Beach Road ($600,000 approx.). Cost estimates for sealing those car parks form part of a separate report to Council (I2019/1717).
b) Introduction of parking technology (such as pay parking and compliance monitoring systems) within Seven Mile Beach Road and Broken Head Reserve Road. Cost estimates not finalised but expected to be in the order of $100-$150,000.
c) The establishment of No Parking 1am-5am signage along Seven Mile Beach Road ($2,000).