SUMMARY
Development application (DA) 10.2019.154.1 seeks approval to hold a one-day festival over three consecutive years from 2020 to 2022 at the new Stone and Wood micro-brewery site in the Byron Arts and Industrial Estate.
Up to 2,000 persons are expected to attend each event inclusive of patrons and staff. Food and entertainment will be provided along with alcoholic beverages in accordance with liquor licencing requirements. The development application proposes temporary closure of Centennial Avenue under traffic control as well as temporary signage in the public road reserve along Centennial Avenue and Ewingsdale Road.
The DA and associated traffic management plan (TMP) was previously considered at the meeting of the Local Traffic Committee (LTC) on 30 July 2019. The committee was not supportive of the proposal during this meeting and made a number of comments in relation to pedestrian safety, hostile vehicle mitigation, and access and drop off points. LTC recommended that an amended TMP be prepared to suitably address the committee's comments.
The applicant has revised the TMP in accordance with the committee's recommendations and resubmitted to Council for consideration. Please refer to Attachments 1 and 2.
OFFICER RECOMMENDATION
That Council endorse Festival of the Stone to be held on Saturday 6 June 2020, Saturday 12 June 2021 and Saturday 11 June 2022 in accordance with the Local Traffic Committee recommendations.
BACKGROUND
Previous consideration by Local Traffic Committee
At the 30 July 2019 LTC meeting the committee was not supportive of the proposal and made the following comments:
Police:
· Concerns about pedestrian safety as they leave the event. Event organisers should consider a shuttle bus.
· The amount of people assembled without a barrier to the road will require hostile vehicle mitigation strategies.
TfNSW:
· Concerns about queuing on Bayshore Drive and in turn Ewingsdale Road. Concerns about the footpath shown on the plan linking Ewingsdale Road directly to the site is not an actual footpath, crosses a drain, and may be on private property.
· TfNSW suggests the drop off/pick up within the private property of Stone & Wood. TfNSW would prefer a one year approval.
· Consider measures to create good visual separation between pedestrians and traffic on Ewingsdale Road, for example flagging/bunting.
· Option to consider on-road drop-off in Centennial Circuit during one-way trial, provided an area is delineated and there is no on-street parking.
· Consider closing Centennial Circuit between Brigantine and Tasman Way with traffic control to accommodate shuttle bus drop-off and businesses, perhaps allowing taxis and Uber access.
The applicant has prepared an amended traffic impact assessment and traffic management plan to address the issues raised by NSW Police and TfNSW. Please refer to attachments 1 and 2.
Referral to TfNSW
The amended development application was referred to TfNSW in accordance with Clause 101 of State Environmental Planning Policy (Infrastructure) 2007 – traffic generating development.
TfNSW advises:
1. The Consent Authority should be satisfied that buses will be able to manoeuvre safely in the heavily pedestrianised areas.
2. It is requested that consideration be given to controlling any stopping and parking on Ewingsdale Road during the Events.
3. The Event organiser must make contact with Roads and Maritime Regional Operations Section (on 1300 762 376) in the event that delays on Ewingsdale Rd have the possibility of impacting on the Pacific Motorway, including immediate notification of all incidents.
4. The Event organiser is to provide appropriate resources to manage 'end of queue management', including on the Pacific Motorway if required.
5. Any regulatory signs and devices associated with the event, proposed for placement on Ewingsdale Road will require the endorsement of the Local Traffic Committee prior to Council approval. Please refer to A Guide to the Delegation to Councils for the Regulation of Traffic.
PROPOSAL
Proposed development
The applicant proposes the following details. DA 10.2019.154.1 seeks approval to hold a one day festival over three consecutive years from 2020 to 2022 at the new Stone and Wood micro-brewery site in the Byron Arts and Industrial Estate.
Each event will attract up to 2000 persons inclusive of patrons, volunteers, staff, performers and associated personnel. Alcoholic beverages from the brewery will be available for purchase during the event in accordance with liquor licencing requirements. Temporary bars and food and drink stalls will be operating throughout the event.
A Traffic Impact Assessment and Traffic Control plan has been submitted but will need to be amened in accordance with Council comments under the heading below Key Issues.
Key details
Key elements and details of the events are as follows:
Event Dates: Saturday 8th June 2020
Saturday 6th June 2021
Saturday 12th June 2022
Operating times: 3.00pm – 10.00pm
Total Attendees: 2,000 patrons and staff
Entertainment: Food and Drinks, Family activities (face painting etc.), D.J.'s/Bands
Parking and traffic arrangements
Parking for the event is to be provided at the Cavanbah Centre (326 spaces) and in the surrounding road network (200 spaces). Patrons can access the site from the Cavanbah Centre on foot via a pedestrian walkway connecting to Ewingsdale Road.
Patrons parking at the Cavanbah Centre will walk to the event using the existing off-road pathway along Ewingsdale Road. A temporary path link is proposed for connection to the site from Ewingsdale Road as depicted in Figure 5 (p. 12) of the attached traffic impact assessment report. The proposed link crosses a lot owned by Byron Shire Council. Owners Consent may be required for this temporary work.
Public Transport
Shuttle bus service is being arranged with local bus operators to provide transport for patrons from Byron Bay Township to the site and return.
Road Closure
The TMP proposes temporary closure of Centennial Circuit between Brigantine Street and Tasman Way during the event. Access to the road closure is intended to be provided to shuttle buses and taxis under traffic control. Event marshals will be provided to assist with managing pedestrians and vehicle drop-offs at the site frontage.
Please refer to the Traffic Impact Assessment, Traffic Management Plan and Traffic Control Plan in Attachments 1 and 2.
KEY ISSUES
In response to the above, council's Development Engineer expressed concern over the possibility of vehicles queueing on Ewingsdale Road and the first section of Bayshore Drive. Therefore, a condition of consent is recommended that requires all parking and event drop-off (including shuttle bus) to occur at the Cavanbah Centre, with the exception of disabled and elderly drop offs which are to occur at the site frontage.
The following condition of consent is recommended:
Parking, Drop-off & Pick-up
· All parking and vehicular drop-off including shuttle bus, taxi, Uber & other mode of transportation to for the event shall utilise Cavanbah Centre. The car parking area in Cavanbah Centre must be maintained during the event and returned to pre-festival conditions. Any damage to the car parking area shall be repaired immediately and all cost shall be borne by the consent holder;
· Drop-off & Pick-up of elderly and people with disability shall be undertaken at the existing northern access of the site and assisted with event personnel; and
· No drop-off & pick-up permitted along Centennial Circuit other than elderly and people with disability
In addition, an amended TCP is to be prepared for the endorsed routes and submitted to an approved Roads & Maritime Services accredited person in accordance with the following condition of consent:
Traffic Control Plan
A traffic control plan for the endorsed routes shall be prepared by a Roads & Maritime Services accredited person for the temporary traffic signage layout and vehicle movements to be used during the erection and removal of signs & barrier within the road reserve. The traffic control plan shall be submitted to and approved by Roads & Maritime Services accredited person 24 hours prior to the event. The consent holder shall forward the approved and Certified Traffic Control Plan to Council.
The TCP shall be prepared in accordance with the following:
· All Traffic Control devices are to conform to AS 1442.2 and 1742.3
· All persons placing and removing Traffic Control devices are to have current accreditation from the TfNSW.
· All roads are to be barriers and signs removed immediately following the event.
· The event organisers must provide a Risk Assessment of the event and an emergency contingency plan. These plans must be inclusive of all traffic flows.
The following routes are endorsed:-
· Entry into the event – Ewingsdale Road, Bayshore Drive/Centennial Circuit (north intersection)
· Exit from the event site – via Bayshore Drive/Centennial Circuit (north intersection)
· Entry/Exist via Cavanbah Centre
Council's Development Engineers consider the proposal to be acceptable from an engineering perspective subject to the above conditions of consent.
The above recommendation to endorse entry and via the Northern Bayshore Drive / Centennial Circuit intersection is designed to prevent traffic backing up along Centennial Circuit onto Bayshore Drive.
One-Way Trial, Centennial Circuit
It is noted that Council plans to undertake a one-way trial for Centennial Circuit. The trial proposes to make traffic one way from the southern end of Brigantine St, along Centennial Circuit to Wollongbar St.
This trial will commence within the next six months. The duration off the trial has not yet been confirmed but will last for at least 6 months and may result in a permanent change to Centennial Circuit.
The one way trial is not expected to conflict with the proposed road closures and traffic management for this event.
The map below shows the proposed one way trial direction (in blue) and the direction of shuttle bus movement (in yellow) do not conflict.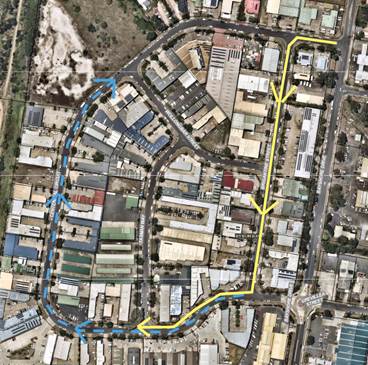 COUNCIL IMPLICATIONS
Budget/Financial
The event organisers will be invoiced the following fees as appropriate:
- Approval of Road Events pursuant to s144 of the Roads Act (Advertising of event and staff time to process), and
- Development Certification fees – section 138 with fees being the fee applicable as at the date of payment.
Asset Management
Not applicable.
Policy or Regulation
Delegated to council for authorisation in conjunction with:
- Actions required to control traffic- Part 8 (Sections 114 to 124) Roads Act, 1993.
- Prescribed traffic control devices - division 1 of Part 4 (Sections 50 to 55) Road Transport (Safety and Traffic Management) Act, 1999.
- R5-1-3 Parking (Disable) – NSW Road Rules 203, $541 fine
- R5-400 No Stopping - NSW Road Rules 167, $253 fine
- R5-41 No Parking (specified times) - NSW Road Rules 168, $108 fine.
Consultation
A condition of the endorsement of this event is that appropriate consultation is undertaken, including:
1. Advertising the impact of the event in the local newspaper and on the Council website.
2. Notifying businesses that are directly impacted by the temporary road closure.
3. Liaising with bus and taxi operators.
4. Consulting with emergency services.
Legal and Risk Management
If vehicles cause congestion in Centennial Circuit and Bayshore Drive then this could directly impact in MR545 - Classified Road – Ewingsdale Road. Appropriate approvals and insurances should be required as a condition of the endorsement for this event.