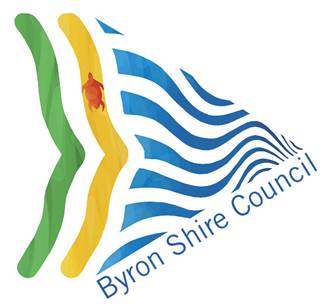 Extraordinary local Traffic Committee Meeting
An Extraordinary Local Traffic Committee Meeting of Byron Shire Council will be held as follows:
Venue

Via Email

Date

16 -23 April 2020

Time

Electronic Meeting

Committee Members

Ian Shanahan – Transport for NSW

Snr Constable Chris Davis – Police

Cr Basil Cameron

Tamara Smith MP
Phillip Holloway
Director Infrastructure Services I2020/577
Distributed 17/04/20
Local Traffic Committee Meeting 6.1
Report No. 6.1 Parking time limits -South Beach Rd, Brunswick Heads
File No: I2020/555
In response to the current COVID-19 pandemic and concerns about the public not adhering to recommended requirements for social distancing and minimal travel, Mayor Richardson has used his delegated authority under section 266 (d) of the LGA to introduce new parking restrictions to the area east of South Arm Bridge, Brunswick Heads.
This decision was made by the Mayor following Local Area Emergency Management Committee meetings, and signage changed on 9 April.
Figure 1. shows the signage proposed by Council Staff for installation. It is noted that these signs have already been installed prior to the Easter Long weekend to act as a deterrent and are subject to LTC review and comments.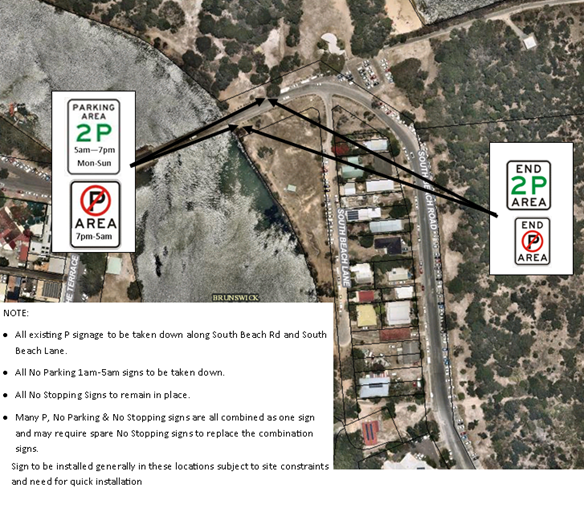 Figure 1. Signage plan
Recommendation:
This report seeks LTC support for the "South Beach Parking Area" parking changes that were implemented 9/4/2020 and the signage installed in the locations shown in Figure 1.
· 2P Parking Area 5am-7am Monday to Sunday
· No Parking Area 7pm-5am
· End 2P Parking Area
· End No Parking Area
· removal of existing regulatory parking signs
RECOMMENDATION:
That Council implement 2P parking time limits in South Beach Road and South Beach Lane from 5am – 7am Monday to Sunday, and No Parking 7pm - 5am with signage as per signage plan in Figure 1.