SUMMARY
Consent condition D29 (b) for Splendour in the Grass requires the event to submit a Traffic Control Plan (TCP or now named TGS) to Council's LTC for endorsement:
D29. At least two months prior to any medium or large event, the Applicant must prepare a Traffic Control Plan (TCP) for the development. The Plan must:
a) be prepared by a suitably qualified and TfNSW accredited Work Site Traffic Inspection;
b) be submitted to the Byron and Tweed Local Traffic Committees for endorsement and submitted to BSC and TSC for approval on road under their control;
c) be designed in accordance with the requirements of the TfNSW's Manual, Traffic Control and Work Site Version 2, and the current Australian Standards, Manual of Uniform Traffic Control Devices Part 3, 'Traffic Control Devices for Works on Roads',
d) include details on reduced speed zones and special event clearways and signage to prohibit parking in the surrounding road network and in the Yelgun rest area;
e) include a Traffic Incident Management Plan that details a range of approved contingency measures capable of avoiding significant impacts on the level of service. The contingency plan must be fully documented and include emergency contact names and phone numbers; and
f) be designed to achieve the traffic key performance indicators under Condition D16.
Following approval of the TCP, a copy of the TCP must be submitted to TfNSW and Planning Secretary.
Council has received a TGS (formerly TCP) for Splendour in the Grass (SITG) 2022 to be implemented between the 15th to 27th July 2022 (Refer to Attachment 2). The actual event being held on the 22nd – 24th July.
It is noted that TCP's are typically not endorsed by LTC. Instead it is typically recommended that Council condition a TCP be developed by a suitably qualified person. In contrast TMP's are typically reviewed and endorsed by the LTC. However, as seen in the condition consent D27 below the TMP is to be approved by the Planning Secretary of the Independent Planning Commission.
D27. The Applicant must prepare a Traffic Management Plan for the development to the satisfaction of the Planning Secretary. The Plan must:
a) be prepared by a suitably qualified and experienced person(s);
b) be prepared in consultation with BSC, TSC and TfNSW;
c) detail the measures to be implemented to ensure road safety and network efficiency, including:
i. ensuring no queuing on Tweed Valley Way and Yelgun Interchange off-ramps;
ii. details of traffic diversion strategies;
iii. ensuring Gate A is only used by trucks or other heavy vehicles (including buses) on the event days and shoulder days associated with large and medium events; and
iv. ensuring local traffic movements, including residents of Jones Road and Yelgun Road, are given priority and can access their properties;
d) include demand management strategies to reduce private car use while promoting alternatives foTfNSW of transport; and
e) contain a Traffic Monitoring Program to monitor the impact of increased traffic generation on the amenity of the area and the effectiveness of the traffic management measures implemented, including but not limited to:
i. data collection of vehicle arrival and departure times, occupancy rates and directions of travel for staff, campers and day patrons;
ii. patronage of bus services, including bus occupancy rates, arrival and departure times
iii. modal share by vehicle type, including comparison with the modal share as described in the EIS and RTS;
iv. queues monitoring, background travel counts on the Pacific Highway and Tweed Valley Way and vehicle volumes on the Yelgun Interchange; and
v. procedures and protocols for monitoring, including frequency.
OFFICER RECOMMENDATION
That Council note the Traffic Control Plans for Splendour in the Grass to be held 22 to 24 July 2022.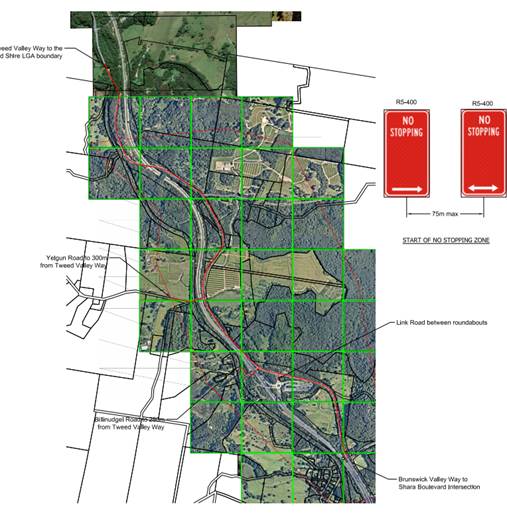 BACKGROUND
The 2020 and 2021 events where cancelled due to covid19. No concerns were raised after the 2019 event and no changes have been made for this year's event in regard to the TMP and TGS.
Note, the splendour webpage makes no reference to use drop off/pick up at Mullumbimby leagues club, with a free shuttle bus to the event., this was used in the 2019 event without approval.
The applicant also proposes to continue the use of the temporary bus stop pick up / drop off at Brunswick Heads War Memorial on the corner of Fawcett St and Mona Lane.
KEY ISSUES
1. Congestion caused by the event may directly affect a TfNSW controlled asset – Pacific Highway. Applicant to provide confirmation that the 2019 event met the K.P.I's as set out in condition D16 as part of the S138 application.
COUNCIL IMPLICATIONS
§ Budget/Financial
The event organisers are required to pay for the relevant S138 application fees as per the Fees & Charges 2021.
§ Asset Management
Not applicable.
§ Policy or Regulation
Speed Limit (as required) ROAD WORK (R4-212) - Delegated to council for authorisation in conjunction with NSW Road Rules 21 and AS 1742.4 (Speed Controls) Clause 3.1.2, AS 1742.3 (Roadworks).
§ Consultation
A condition of the endorsement of this event is that appropriate consultation is undertaken, including the following recommendations:
1. Advertising the impact of the event in the local newspaper and on the Council website.
2. Informing community and business that are directly impacted.
3. Liaising with bus and taxi operators.
4. Consulting with emergency services.