SUMMARY
Council has received requests from local residents to introduce a shared zone within Seven Mile Beach Road, Broken Head. Such a request will need to meet the requirements and approval of the road authority, being Roads and Maritime Services (RMS).
RMS provides technical direction and fact sheet outlining the criteria for the establishment of a shared zone. A 2012 RMS fact sheet states:
· A Shared Zone is a road or network of roads where the road space is shared safely by vehicles and pedestrians.
· The maximum speed limit is always 10 km/h.
· There may be no road lines, kerb or gutter in a Shared Zone to show that pedestrians and vehicles are equal.
· Drivers must give way to pedestrians at all times.
· Vehicles can only stop in a Shared Zone if they obey the parking signs and park in marked bays, if they are provided.
· Drivers travelling at a lower speed are better able to control their vehicles and safely avoid impact with other road users.
OFFICER RECOMMENDATION
1. That the concerns of local residents and their request for a shared zone within Seven Mile Beach Road, Broken Head be noted.
2. That Council does not support any further consideration or review into the request for a shared zone within Seven Mile Beach Road, Broken Head.
LINKAGE TO OUR COMMUNITY STRATEGIC PLAN
| | | |
| --- | --- | --- |
| Theme | Community Infrastructure | Services and infrastructure that sustains, connects and integrates our communities and environment. |
| Objective | CI2 | Provision of essential services |
| Strategy | CI2.3 | Provide roads and drainage infrastructure within the Shire |
| Measures | CI2.G | Provide road, drainage and transport infrastructure within the Shire |
BACKGROUND
Seven Mile Beach Road is a 4.8 km rural no through road located at Broken Head, which allows access to 31 adjacent residential land parcels. It is predominantly unsealed except for a small sealed section in the middle near house no 248.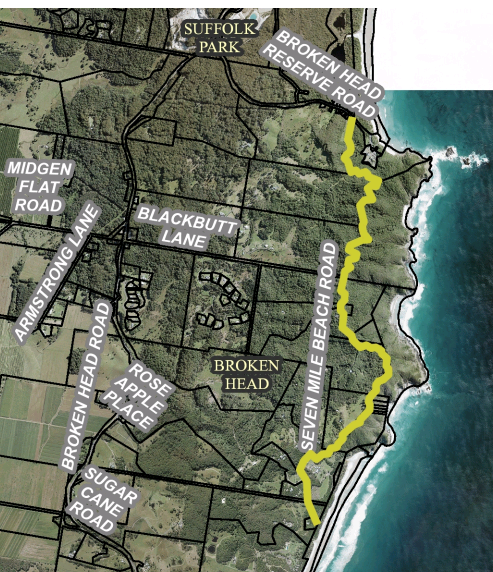 Following the Council receiving ongoing complaints and requests from local residents, there have been several meetings between local residents, NSW Police, National Parks & Wildlife Services and Council staff. The key issues raised were:
· Illegal camping
· Camp fires (potential for bush fires)
· Parking
· Speed of vehicles
· Access for emergency services
· Environmental damage to the nature reserve
· Dead wildlife
· Antisocial and inappropriate behaviour
· Graffiti
· Defecation in the reserve and on the roadside
· Vandalism to public property and signage
· Inability of other road users (cyclists, walkers and runners) to safely use the road.
The residents have requested that a shared zone be implemented over the full length of Seven Mile Beach Road.
The relevant RMS Technical Direction (Feb 2016, 2016/001) for the design and implementation of shared zones, including provision for parking, provides further detail and specific requirements, including the two categories of shared zone, either:
· Category 1 – on a road related area with different colour and texture surface from surrounding roads and typically does not have kerbs; or
· Category 2 – on a road which includes footpath parking and has substandard footpath widths, retains kerbs and has traffic calming devices and treatments to regulate traffic speeds to 10km/h.
In addition, the Technical Direction (TD) also states that shared zones may be appropriate 'where there are comparatively high pedestrian volumes'.
The TD also outlines various design principles, traffic calming measures and considerations in regard to landscaping and furniture, provision for mobility and vision impaired people and parking.
In summary, the RMS documents indicate that shared zones are typically used in urban and built environments where pedestrian numbers are significant and their needs are to be given a greater priority than other road or road related areas.
Seven Mile Beach Road does not meet such requirements and would require substantial upgrading to do so. Currently most of the near 5km length of this no through road is unsealed and narrow (<5m width). There are no footpaths and as with most unsealed roads there is no constructed kerb or gutter or street lighting.
Parking is restricted in most sections through the enforcement of the No Stopping regulation which is signed both sides of the road. In contrast, permissible roadside parking typically is located where road width allows and occurs informally by the absence of restrictions as opposed to the provision of permissible in defined parking areas that are signed, paved and marked.
These existing conditions however are typical of such a rural road environment which provides access to the adjacent residential blocks. While traffic count data is old (2003, approx. 200 vehicles per day) the number of residential blocks indicate volumes would be low most days and times whereas traffic peaks is presumed to coincide with visitor numbers (no data) for the nearby beaches.
Similarly, while there is no pedestrian count to quantify numbers it can be assumed however that most visitors drive to their destination along this road on at least two grounds. Firstly, Seven Mile Beach Road is approx. 3km from its closest largest urban environment (Suffolk Park); a distance which makes the generation of high pedestrian only activity unlikely. Secondly, the number of adjacent properties is the most likely source of pedestrian only movements. However, their low number would not be considered "comparatively high".
Another factor to consider would be road safety. However, the crash data (1 crash in last 5 years; being off-road, no injury, due to speed) does not support a shared zone; neither does the rural setting and the presumed low speed, traffic and pedestrian movements. As such, it is most unlikely RMS approval (or even support for further investigation) would be forthcoming and therefore it is recommended that no further consideration be given to the creation of a shared zone within Seven Mile Beach Road, Broken Head.
KEY ISSUES
· Visitors/tourists are currently breaking the law by camping overnight – safety concern, intoxicated people, rubbish & waste left, camp fires/gases stoves used near bush land.
· Vehicle parked illegally – road is narrow with limited parking where road width allows, parked vehicles blocking access for emergency services.
COUNCIL IMPLICATIONS
§ Budget/Financial
No actions recommended that require a budget.
§ Asset Management
§ No actions recommended that create assets..
§ Policy or Regulation
R4-4 Shared Zone is not delegated to Council for authorisation.
§ Consultation
Consultation would be required to be undertaken.
§ Legal and Risk Management
By lowering the speed of vehicles and making them aware of pedestrians along Seven Mile Beach Road the consequences of a pedestrian / vehicle strike are greatly reduced.