This report seeks LTC support for the reprioritisation of give way signs on Tincogan Street at the Dalley Street and Stuart Street Interesctions in order to provide East-West traffic priority in Tincogan Street.
Currently traffic on Tincogan Street must give way to traffic on Dalley Street and Stuart Street as seen in Figure 1 below.
Figure 1: Tincogan St / Dalley St Intersection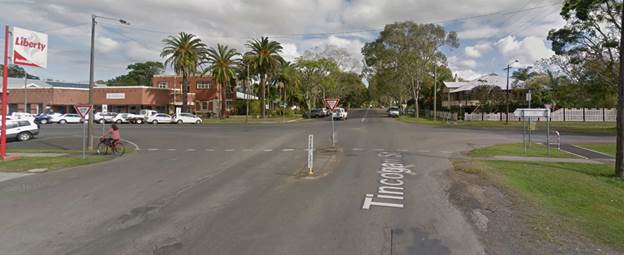 Figure 2 below shows the typical traffic paths through Mullumbimby. Refer to blue line for vehicles travelling east / west and yellow for vehicles traveling south / west.
Figure 2: Plan view of Mullumbimby and travel paths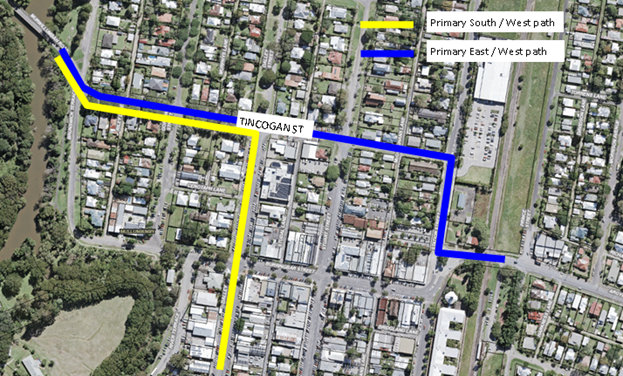 Previous Reports
This matter was brought to LTC previously in 2014 and 2019. In 2014 LTC recommended the following:
Committee Recommendation
1. That Council receive a report via the LTC as to the benefits and issues associated with changing the traffic route priority along the length of Tincogan Street from Station Street to Brunswick Terrace.
2. That Council seek comments from the community in regards to this proposal with any submissions received forming part of the discussion in the above mentioned report.
3. That Council note that at the intersection at Station Street, the Give Way orientation may be changed.
Council resolved to adopt the above LTC resolution at the 7 August 2014 Council meeting. No additional Council comments were provided.
This matter was also brought to LTC in September 2019 where the benefits and issues associated with the priority change were discussed. LTC made the following recommendations:
Committee Recommendation
1. That Council note the Committee's comments on possible changes to Give Way signs at Tincogan Street / Dalley Streets intersection and the Tincogan Street / Stuart Street intersection.
2. That Council note the correspondence from the Mullumbimby Residents Association to the Director Infrastructure Services dated 6th September 2019, (E2019/67997) and consult with residents of Mullumbimby.
3. That Council investigate Active Transport Funding FY20/21 for pedestrian protection in this area.
Council resolved (19-485) to adopt the above LTC resolution, with the exception of item 3, at the 26 September 2019 Council meeting.
Through the above reporting, Council has shown clear support for the changes in intersection priority at the time of reporting.
Mullumbimby Masterplan/Community Consultation
In December 2019, Council adopted the Mullumbimby Masterplan which supports the reprioritisation of give way signs on Tincogan Street to facilitate east-west traffic priority as well as to realign the intersections at the Stuart and Dalley Streets to improve safety and traffic flow.
Proposed Design
The preliminary design has been appended to this report. Note, details related to kerb buildouts, drainage, parking, landscaping is subject to change and are not regulatory devices requiring LTC review. Only proposed regulatory signs and lines require LTC consideration.
Construction Scheduling
Council aims to commence works to coincide with the Burringbar Talking Street Project. The purpose of this project is to reduce the amount of through traffic along Burringbar Street by diverting traffic along alternate routes such as Tincogan Street via Station Street in order to circumnavigate the Mullumbimby commercial area.
The works associated with the intersection changes are proposed to occur in the following stages due to budget and resource requirements::
Stage 1: Linemarking and signage – December 2020
Stage 2: Installation of pedestrian refuges, some landscaping and kerb buildouts – early to mid 2021
Stage 3: Connectivity between Dalley and Stuart Streets including parking – longer term
Staged Construction Considerations
Pedestrian Safety
As seen in the proposed design, improved traffic control and pedestrian safety will be addressed through kerb extensions and pedestrian refuges. The goal of these is to narrow the intersection, aid in managing speed and provide improved pedestrian safety at the Dalley and Stuart Street intersections with Tincogan Street.
The period between Stage 1 (line marking and signage) and Stage 2 (kerb buildouts) works may represent a risk to pedestrians in this regard. An interim solution to help address this risk may be to line mark chevrons where future kerb extensions are proposed, potentially in combination with guide posts or temporary reflective pavement markers. These items are not regulatory devices but are mentioned to highlight Council's steps to improve pedestrian safety.
Shops
Along Tincogan St, between Dalley St and Stuart St is a strip of popular shops, cafes, auto repairs, dance studio, bike shop and motor cycle repair. This strip of Tincogan St currently has high parking demand with high turnover. Parking is 90' angle parking with cars required to reverse out to exit.
The proposed design will reduce the amount of parking in this area due in part to the kerb extensions. This area will need to be monitored to address any potential conflicts arising from the proposed intersection works. Undertaking stage 1 works first will help identify matters that could be addressed as part of stage 2 and 3.
Funding
Stage 1 and 2 works to change the priority at Dalley and Stuart Streets are specifically referenced and scoped tasks under the funding agreement for Council's Election Commitment Grant which is aimed to address the Impacts of Tourism on infrastructure evidenced in Byron Shire.