Background
Council has recently opened the fourth leg on the roundabout at Bayshore Drive / Ewingsdale Road, following the opening of the access road to a new development in West Byron. Figure 1 below outlines the issues expressed by the public and verified onsite by Council staff.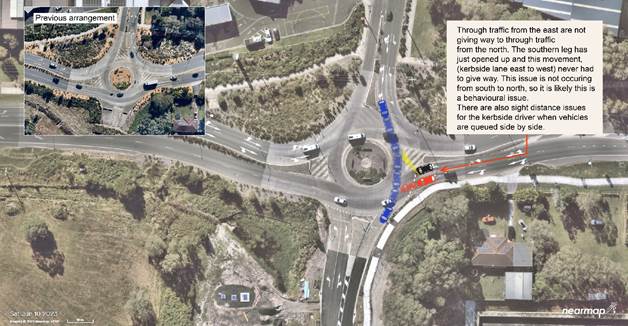 Figure 1: Issues diagram
Proposed Solution
Council staff are proposing a spiral merge lane scenario to help clarify exiting/give way issues from the new leg. This treatment is contained within the RMS, R141 pavement marking guidelines for a dual right turn exit (Figure 2).
The Bayshore Dr/Ewingsdale Road roundabout does not technically allow the double right turn manoeuvre. However, the northern and southern approach right turns are single approaches with dual lane departures and future demand may require dual right turns from the northern approach.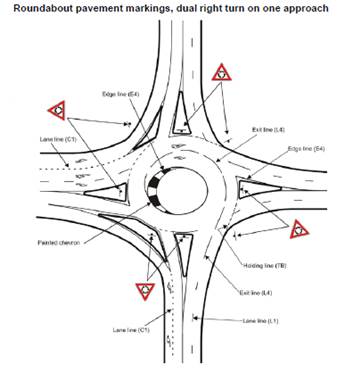 Figure 2: RMS, R141 pavement marking guidelines excerpt.
This treatment (spiral lane) will push the through movement (north and southbound) to the outside of the circulating lane, reinforcing the driver's intent to exit the roundabout. This will also improve sight distance for the opposing east and westbound through traffic. It is considered that this treatment while not being currently used within the Shire can be implemented with very little risk even if drivers are unfamiliar.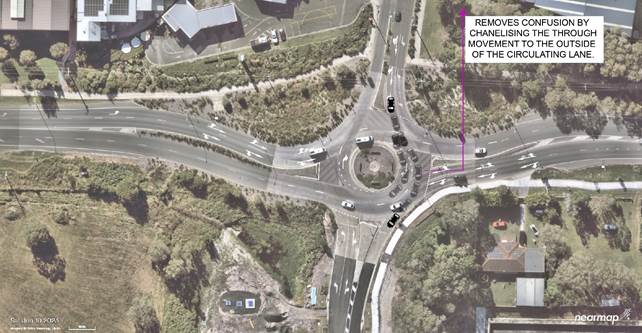 Figure 3: Traffic flow spiral lane markings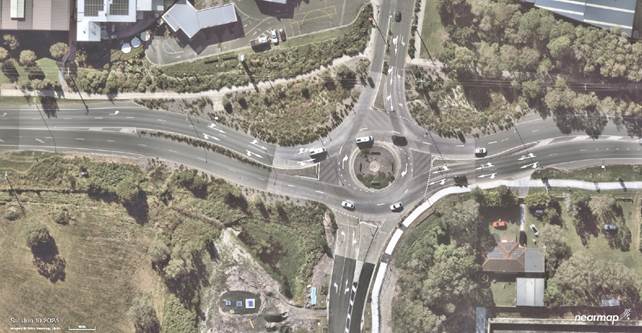 Figure 4: Spiral Lane treatment concept
Other treatments considered
Removal of all chevron line-marking from within the circulating lane of the roundabout, without any form of delineation (below). This option is not recommended due to the current sight distance issues; drivers may still stick close to the central roundabout island when exiting southbound.
Figure 5: No circulating delineation within the east and west sections of the circulating lane
This works at the Myocum Road/Hinterland Way western M1 interchange, however it has been observed that the eastbound approach (kerbside lane) still seems to have the same sight distance issue when looking for drivers exiting northbound (Myocum Rd). It is noted there is only one crash on this approach that may be attributed to this issue (table 1).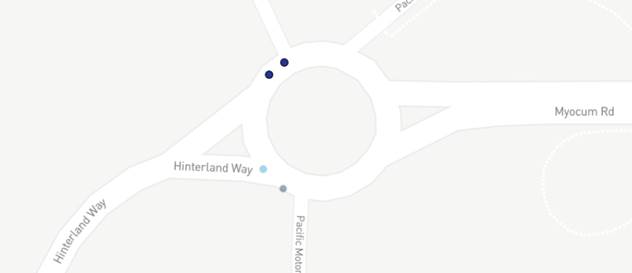 Figure 6: Crash map TfNSW (above)
Table 1: Crash data, Myocum Rd/Hinterland Way western M1 interchange (Hinterland Way Ebnd)
| | | | | | | | | |
| --- | --- | --- | --- | --- | --- | --- | --- | --- |
| Crash ID | Data source | Degree of crash | Date of crash | Identifying feature | Identifying feature type | Town | Type of location | Other TU manoeuvre |
| 1186825 | Police investigated | Moderate Injury | 7/11/2018 | MYOCUM | RD | EWINGSDALE | Roundabout | Proceeding in lane |
| 1254990 | Police investigated | Moderate Injury | 27/01/2021 | MYOCUM | RD | EWINGSDALE | Roundabout | |
Figure 7: Myocum Rd/Hinterland Way western M1 interchange