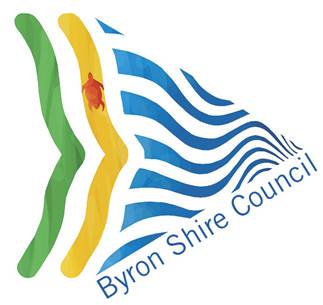 Local Traffic Committee Meeting
A Local Traffic Committee Meeting of Byron Shire Council will be held as follows:
Venue

Online Meeting

Date

Monday, 11 October 2021

Time

10:00am

Committee Members

Penny Sutton – Transport for NSW

Detective Chief Inspector Matt Kehoe – Police

Cr Basil Cameron

Tamara Smith MP
Phillip Holloway
Director Infrastructure Services


I2021/1680
Distributed 10/04/21
Local Traffic Committee Meeting 6.1
Report No. 6.1 Change of Date - Byron Lighthouse Run 2021
File No: I2021/1632
SUMMARY
LTC previously reviewed this event at the 15th June LTC meeting and recommended supporting the event. The event was approved for Sunday 24th October 2021. Organisers now request a change of date to Sunday 21st November 2021.
The event competitor numbers has also been reduced from 750 down to 600 participants.
The event organisers have updated their Traffic Management Plan to dates supporting the 21st November event. This TMP is attached.
BACKGROUND
The annual Byron Lighthouse Run is proposed to be held on Sunday 21st November 2021. It is a fun run and walk to raise money for charity. The event will operate on the same course and design as the 2019 event.
The Byron Lighthouse Run 2021 is expected to attract approximately 600 participants.
The Byron Lighthouse Run features participation in the following categories: 10km Fun Run, 6km Walk, 1km Kids Dash. Note that the 1km Kids Dash will be contained entirely within Dening Park and will not extend onto the road reserve.
COURSE OVERVIEW
As seen in the maps below the 10km run course and 6km walk course extend along Lawson St and Lighthouse Road up to the Lighthouse. This means access in and out of Wategos will require traffic management which must be formalised through the TCP.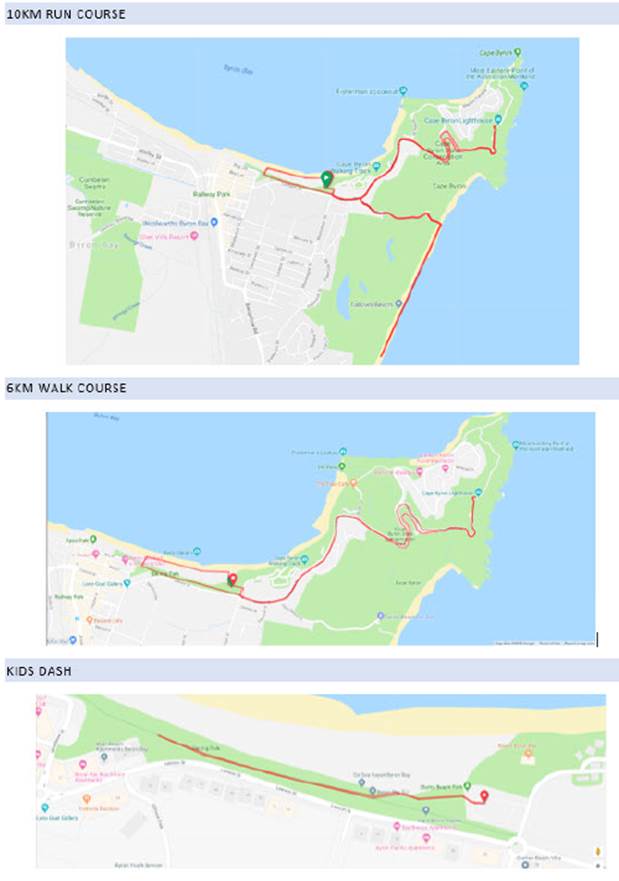 TRAFFIC MANAGEMENT
Full details of the submitted Traffic Management Plan are provided in attachment 1 with planned road closures (and hours of closure) shown in the table below.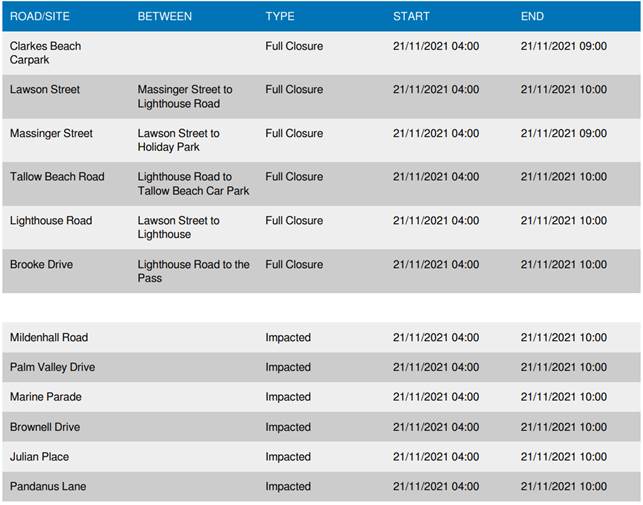 Outgoing traffic from within the closed Lighthouse precinct will be guided by traffic control to the Lawson Street and Massinger Street intersection. Escorts will be available throughout the closure; the mobile number to arrange escort in advance is disseminated in all community consultation collateral. Motorists will be advised to proceed with caution, hazard lights on, and windows down until they reach the Lawson Street roundabout.
In the case of a major community incident such as terrorism, the event will be put on hold until the Race Director and Police determine when the event is safe to continue. Emergency services will maintain right of way.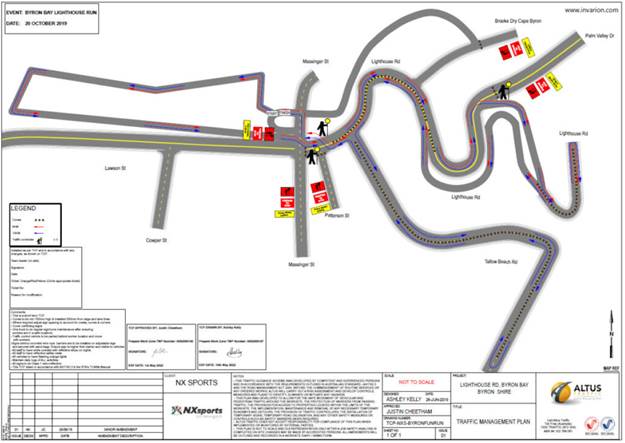 CLARKES BEACH CAR PARK
The race proposes to centre on Clarkes Beach Car Park with the car park forming the start and finish point. Event registration and first aid is also based at the car park and additional toilets located there.
The applicant states they will reopen Clarkes Beach at 9am. It is recommended to state in the recommendations that Clarkes Beach is to be open to the public by 9am.
The following recommendation is the same as those adopted previously. Dates have been changed.
RECOMMENDATION:
That Council support the 21 November 2021 Byron Lighthouse Run, subject to:-
1. Traffic guidance Scheme(s) and a Traffic Management Plan being designed and implemented by those with the appropriate and relevant TfNSW accreditation.
2. The road closures and hours of closure in accordance with the submitted Traffic Management Plan in Attachment 1 (E2021/126632).
3. Clarkes Beach car park open to the public by 9am. Alternatively, if car park is to be closed to the public after 9am an application is to be made to Council to occupy the car park and relevant application fees and parking fees are to be paid to Council prior to the event commencing.
4. Separate approvals by NSW Police, TfNSW and Cape Byron Headland Trust being obtained.
5. The event organiser:-
i) advertising the impact of the event via a notice in the local weekly paper a minimum of one week prior to the operational impacts taking effect, noting it must include the event name, specifics of any traffic impacts or road closures and times, alternative route arrangements, event organiser, a personal contact name and a telephone number for all event related enquiries or complaints;
ii) providing copy of the advert for Council's web page;
iii) informing community and businesses that are directly impacted (e.g. adjacent to the event), including the Beach Byron Bay Café and North Coast Holiday Park Clarkes Beach, via written information which is delivered to the property in a timely manner so as to document, consider and respond to any concerns raised;
iv) arranging for private property access and egress affected by the event;
v) liaising with bus and taxi operators and ensuring arrangements are made for provision of services during conduct of the event;
vi) consulting with emergency services with any identified issues being addressed;
vii) holding $20m public liability insurance cover which is valid for the event; and payment of Council's Road Event application fee prior to the event.
1 Event Management Plan, E2021/126632 , page 9⇩

Local Traffic Committee Meeting 7.1
Report No. 7.1 Mercato on Byron - Amendment to Development Consent Conditions of Approval
File No: I2021/1608
An initial report was submitted to the August LTC meeting where the following was recommended and adopted by Council. The purpose of this report is to address item 2 from the resolution:
1. That Local Traffic Committee supports in principle the removal of the Roundabout Treatment at the intersection of Jonson St & Carlyle St intersection from condition 23e) of DA10.2013.587.1 (as amended).
2. That LTC be provided with updated plans and details including pedestrian facility in original approved location, bus stop, taxi rank, motorcycle parking with relation to regulatory signage for consideration and recommendations for approval at the next LTC meeting.
3. That a priority with supporting signage is established to the crossover to pedestrians and cyclists.
Council's Development Engineers forwarded the August LTC comments to the applicant who amended the plans. These amended plans were then sent through to TfNSW for comment prior to this submission to LTC.
Below is a summary of the TfNSW comments and a summary of the applicant's response is shown in italics explaining on how these requests have been considered in the attached plans:
1. Replace Give Way sign with Stop sign at departure of development which will force drivers to give way to pedestrians – and use associated TF solid hold line at intersection.
'The plans will be updated to show the Stop Line and sign, as per TfNSW.'
Staff Comments: Installation of Stop sign will provide for increased pedestrians safety.
2. Remove large median from the Carlyle Street turning bay and replace with black hatching in the centre median. This is intended to allow heavy vehicles to be able to turn – as well as allowing more right-turning vehicles to queue.
'The plan will be updated as requested, but to note that the traffic median will only be 600mm wide and a narrow 'Keep Left' sign will need to be used. (as requested by TfNSW)'
Note: While this is not a regulatory matter this accords with comments made at the August LTC meeting.
3. Ensure the pedestrian refuge meets requirements of TD2011/09. Handrails should also be included for cyclists.
'The plans will be updated to include the handrails as requested by TfNSW however it is noted that cyclists should not be using this crossing, as it is for pedestrians and the handrails may encourage cyclists to cycle across (not dismount).'
Note: TfNSW road rules require cyclists to dismount when crossing a pedestrian crossing unless bike traffic signals are provided. Ensuring design is in accordance with the relevant TfNSW technical direction to be managed via the Roads Act approval process. It is noted that TD2011/09 appears to be superseded.
4. Install advance warning signs (W6-1 and W8-15) for the pedestrian refuge ensuring the distance from the signs to the refuge complies with AS1742.
'These signs have not been included, as Jonson Street is in the Town Centre of Byron Bay and drivers will expect to see pedestrians wishing to cross the road along this stretch of street. In addition, there are no other warning signs for the other pedestrian crossings in the town centre.'
'The addition of signs will add to the existing sign clutter and may draw the drivers focus to the signs rather than the street environment itself.'
5. The 2P parking signs on the southern side of Johnson would be difficult to read for a driver.
'These parking signs are the regulatory signs required for on-street parking and are the same as the existing on Jonson Street. These signs have not be amended.'
Staff consider the applicant has reasonably addressed the matters raised during the August LTC meeting and subsequent TfNSW feedback listed above.
Amended design plans can be found at attachments 1 and 2. Attachments 3 and 4 are provided as supporting documentation to show adequate access to and from the site.
RECOMMENDATION:
That Council approve the regulatory signs and lines as presented within the design plans presented in documents E2021/123595 and E2021/123596.
Attachments:
1 Mercato Driveway Layout, E2021/123595 , page 70⇩

2 Mercato Crossing & Road Frontage Design, E2021/123596 , page 71⇩

3 Mercato Driveway-Turning Circles, E2021/123597 , page 72⇩

4 Mercato - Carlyle St - Turning Circles, E2021/123598 , page 73⇩